This edition of Rock The House Down, Justin had local musician Cisco Rose (AKA: Danny Baeffel) in for a bit of a chat and a Live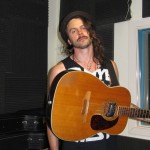 Acoustic Set.
Justin and Cisco talk everything, from music, Falling Down Stairs and Hospital Emergency Rooms.
Check it out below and have a listen.
Related Posts:
Please follow and like us: