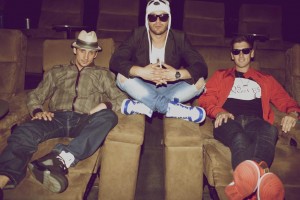 News Flash !!!! Saturday night on Funky Fresh Sounds show on 88.3 Southern FM from 8-10pm we have the very talented Jam Xpress chatting to us Live on the show!!!!
After a couple of weeks on the road for the massive Stereosonic festival and some heavy testing of their new dancefloor destroyer, Jam Xpress have unleashed their new jam, their call-to-arms to the party faithful, 'Everybody Get Up.'
This is a straight up, big room sound from Melbourne producers Andy Murphy & DJ Jorj and this time the guys have teamed up with vocalist and Commander-in-chief Seany B (feat vocalist on TV Rock's breakthrough track Flaunt it) to expertly lead the battle chant on the mic, ensuring sweat and dancefloor devotion.  Remixes come courtesy of: Tradelove from Italy, Bombs Away, J-Trick and Helena.Jam Xpress have already proven the dancefloor around the Nation, with their Track – 'Everybody Get Up' which has jumped to #1 on the ARIA Club Chart for 4 weeks in a row….
Related Posts:
Please follow and like us: