This week I saw Paranormal Activity 4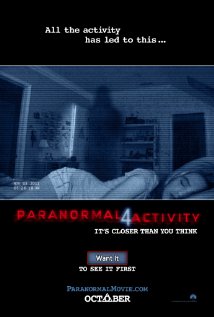 Yes, that is right, in true Horror movie style we have another sequel, did we need another one, maybe not, are people like myself going to continue going to see it, of course we are because we are horror fans.
Like the first 3 films, this is a camcorder style film which basically means the movie is shot by the characters of them themselves, usually by cameras set up around the house etc. Very much like the very famous albeit ordinary Blair Witch Project and the much better Cloverfield.
A family of four start to experience some strange supernatural happenings in their house when a woman and her son move across the road. And a teenager starts to discover that not all is as it seems and there is something supernatural going on.
And this kid is very very creepy. So basically the film is never ending footage of things falling, strange noises after long silences, moving shadows, people appearing out of nowhere, the sort of things that will make you jump in your seat. None of these sort of things haven't been done in the first 3 so don't go expecting something very different to the others, this one is a fairly stock standard horror sequel.
The cast are basically unknowns as is the norm with this Horror franchise, but they do the job, which is all you can ask for a film like this.
Like most the rest of the Paranormal activity films, this is a slow build up to a crazy last ten minutes, you know something bad is coming for the main characters, it is just a matter of when.
I recommend seeing it in the cinema as I find the increased sound and the fact other people are around adds to it, the session I was in had a fair few people in it, and I found it added to the enjoyment.
Funny story about I read during the week, A cinema full of kids in Nottingham England were left traumatised as they were shown this film thinking they were sitting down to a screening of the much loved family friendly film Madagascar 3. After the 5 minutes, kids were screaming and running out, it was mayhem apparently.
Anyway, I really enjoyed this one, although I am starting to think that maybe it's time to put a pin in this franchise as I am not sure what else can be done with it.
I give it 3 Stars.
Watch the trailer here
Related Posts:
Please follow and like us: