PLAYLIST 'Songs of Protest: Blues, Booze & Broads' THURSDAY, 24th October ,2013.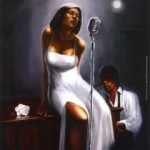 *** "She's no lady. Her songs are all unbelievably unhappy or lewd. It's called Blues. She sings about sore feet, sexual relations, baked goods, killing your lover, being broke, men called Daddy, women who dress like men, working, praying for rain. Jail and trains. Whiskey and  morphine. She tells stories between verses and everyone in the place shouts out how true it all  is." *** Canadian playwright, actor and novelist Ann-Marie MacDonald.
 Artist / Song Title / Album / Label
Mary Johnson / Morning Sun Blues / 'Mary Johnson 1929-1936'. Document Records 1994
Victoria Spivey
/ 
Dirty T.B. Blues / '
Victoria Spivey Vol. 3 1929-1936′. Document Records 1995
———————————————————————————————
Coral Lee & the Silver Scream / Top Man / 'Rocky Road to Io'. Produced by Coral Lee, recorded and mixed by Paulie Bignell @ Hailstone Studio, distributed by Tedesco Records. 2013
Ali Penney & the Money Makers  / Devil On My Back /  'And On It Goes'. Produced and recorded by Phil Punch & the Money Makers, and mastered by William Bowden @ King Willy Sound. 2013
DeeDee Lavell / It's Your Lovin / 'Mama Told Me'. Fresh from Luck Boy Analogue recording studios, Byron Bay. Produced by Geoff Wright & Dee Lavell. 2013
Andrea Marr / That's Where Love Ends / 'Sass & Brass'. All songs arranged & produced by Andrea Marr & Cam Scott, distributed by Blue Skunk Music, Chicago. 2012
———————————————————————————————-
Maime Minch (with C. W. Stoneking) / You Don't Lift Me Up / Unreleased track provided by Graham Thomas of 'Preston Records' fame. Recorded in studio on C.W. Stoneking's Radio National Tour of Australia in 2007. Maime hails from Brooklyn, New York.
Chris O – Album Info: "Peckman's Plateau – The CD will be out late November 2013 … details about purchasing it will be on her Soundcloud site and Facebook – search for 'Chris Okunbor'. Chris is from Katoomba, in the Blue Mountains of Australia.
Chris O / Catfish Blues / A mashup influenced by traditional/Skip James/Robert Petway versions. Contains traditional lyrical motifs found across Blues and Bluegrass music.
Chris O / Me and My Chauffeur Blues / A Memphis Minnie classic from 1941. Just Chris O, guitar, and stomp. Recorded and mixed by Eliot Reynolds at 'Song Cave Studios', Hazelbrook, Australia.
Chris O / Special Rider Blues / A dark, sad blues from Skip James. One of Chris' all time favorite songs … hope you liked it as much as we did !
———————————————————————————————
Dee Dee Lavell / Friday Night / 'Mama Told Me'. Fresh from Luck Boy Analogue recording studios, Byron Bay. Produced by Geoff Wright & Dee Lavell
Dee Dee Lavell / Broken Down / 'Mama Told Me'. Fresh from Luck Boy Analogue recording studios, Byron Bay. Produced by Geoff Wright & Dee Lavell
***** Interview with DeeDee Lavell – Introducing the ' Hopson Sessions' an initiative of 'Women In Blues International' **** Dee Dee Lavell, from Byron Bay, NSW, Australia, with over 25 years of experience as a professional singer. Dee is relatively new to the blues genre. Listen to more of Dee's rich, potent voice and original music on her most recent release 'Mama Told Me'. http://www.deelavell.com/mama-told-me  # Sounds Like: Renee Geyer, Etta James, Patti LaBelle, Aretha Franklin, Bonnie Raitt
"DEE LAVELL IS A SINGER'S SINGER",  said the late Ali 'Ollie' Woodson of  'The Temptations'.
———————————————————————————————–
'Blues Women International' present 'Hopson Sessions Live'
12 blueswomen never recorded before … All Original – All Women. The recording is Live from the Clarksdale Crossroads in the Hopson Commissary, where long time blues artists such as Pinetop Perkins resided, worked and played. This is the first project of the new grassroots organization to assist women blues artists around the world.
https://www.facebook.com/pages/Blues-Women-International/339863079436122?ref=ts&fref=ts
https://itunes.apple.com/us/album/blues-women-international/id641261699
Burning Down
Unfinished Business
Some Iz Good
More Than a Bit Crazy
Good When I'm Bad
——————————————————————————————
Nina Simone (with Emil Latimer) / Black Is The Colour of my True Love's Hair / 'Black Gold'
Nina and Emil Latimer recorded this track in 1969 at the Philharmonic Hall, New York. From the same tour that would be recorded for the 'Black Gold' album. The album features two versions of the song, the first sung by Nina, the second sung in a modified version by her guitarist, Emile Latimer. This was the version played.
———————————————
Close : 12:00am
~~~~~~
It's only a radio show, I know, but small things make a difference. And my aim is to create an experience that does, in some small way, add something special to your day.
I would love to hear about your 'Songs of Protest: Blues, Booze & Broads' experience and will respond personally. Mail me at: info@southernfm.com.au
Yours Truly,
Kansas Kitty xo
(aka Frances Fairhall)
https://southernfm.com.au/
https://www.facebook.com/WomenInBlues 
Related Posts:
Please follow and like us: