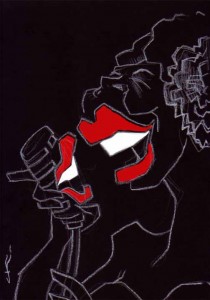 Dear Kindred Spirit,
Thank-you ! for your interest in our new radio show 'Songs of Protest: Blues, Booze & Broads'.
Making this radio show has been somewhat of an experience.
Let me tell you about it.
It started with a passion to create a space for 'women in blues' to showcase their essential art form. I introduced myself to unsuspecting passers-by on the streets of Melbourne and invited them to share their 'women in blues' stories, then convinced them that the show was a worthwhile idea, and they poured their hearts and souls into creating beautiful ideas for the show.
I feel like I've travelled all the way to Clarksdale myself to source and discover the music, and got to know everyone who contributed and got involved with the concept along that way.
~~~~~~
It's only a radio show, I know, but small things make a difference. And my aim is to create an experience that does, in some small way, add something special to your day.
I would love to hear about your 'Songs of Protest: Blues, Booze & Broads' experience and will respond personally. Mail me at: info@southernfm.com.au
Yours Truly,
Kansas Kitty xo
(aka Frances Fairhall)
https://southernfm.com.au/
https://www.facebook.com/WomenInBlues 
Related Posts:
Please follow and like us: