In this podcast, Mark, from 'Purple Haze' has 5 local acts as his guests. Please see below for the running order, photos & details about each artist.
This podcast's running order is as follows :
– Serendipity – segment start time 00:00
– Rudely Interrupted – segment start time 29:07
– Michael Matthews/The Siren Tower – segment start time 1:13:00
– These Four Walls – segment start time 1:32:18
– Pludo – segment start time 1:10:40
– The Beatles (to round it to exactly 2 hours)
You can listen to and/or download the Podcast using the below podcast player.
Mark Copolov's 'Live In The Studio' show – Podcast (2 hours
Artist details :
1)SERENDIPITY
Serendipity, as the name suggests, is the result of a "happy accident" when Melbourne musicians Leah Muscat and Paul Viney met in Tasmania where Paul was playing guitar for Leah's friend Emmy Bryce on a short tour of the Apple Isle. Sharing a car from Burnie to Devonport they found plenty of common musical ground after which they agreed to work on Leah's originals with a view to performing them acoustically.
With Paul's sparse acoustic guitar and Leah's heartfelt delivery, the songs are allowed plenty of room to breathe and convey the emotion contained within the lyrics.  Serendipity have continued to play gigs mixing original songs and some faithful covers of old standards. Linda Ronstadt anyone?
Serendipity will perform 4 of Leah's originals from her first E.P.
–       Honestly
–       More Than 100 times
–       Mr Dominate
–       Real Girl
–       If I Only Knew
* ARTIST WEBSITE *
2) RUDELY INTERRUPTED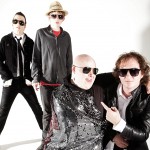 Melbourne independent band Rudely Interrupted has achieved what most bands would give their right arm for! Since forming in 2006, the band has toured relentlessly throughout Australia and overseas. In 2008 the bands invitation to perform at the UN in New York City was captured on film by Ben & Susie Jones and Quail TV and in December 2009 the documentary 'Rudely Interrupted' premiered on ABC TV in Australia / New Zealand. The documentary was a huge success and in 2009 was nominated at the prestigious AFI Awards.
The band's stunning film clip of 'Close My Eyes' from their debut album 'Tragedy Of The Commons', won the Grand Prix For Good at Cannes in 2011 and was screened worldwide with 'Close My Eyes' reaching Top 20 in the Luxemburg iTunes Rock Charts. Rudely Interrupted will tour the Eastern states of Australia throughout November / December to promote their new EP 'Mystery Girl', single 'No Goodbyes' and their 'Rudely Active' – comic book app.
Rudely Interrupted will perform 3 songs from their new ep 'Mystery Girl' :
–       No Goodbyes
–       Is This Me
–       So Tired
We also spinned 2 tracks from the ep :
–       $100,000 000
–       Crazy
Check out the tour dates and latest news on the band's website – http://rudelyinterrupted.com/
3) THE SIREN TOWER
There hasn't been an Australian band like The Siren Tower in quiet some time. This is a band distinctly and unmistakably Australian. The Country and culture that The Siren Tower celebrates in story and song on their brilliant debut album, 'A History Of Houses' has both dignity and conscience in tact.
It is the truth of things, and the truth always makes for a better story. The artistic vision of Grant McCulloch – a fifth-generation Wangaratta boy who has become one of the most critically-acclaimed voices in his adopted Western Australia. The Siren Tower songs have been crafted to animate each and every one of McCulloch's stories in the bombastic fashion that they deserve. Fictional or autobiographical, each song bears a sincerity and narrative depth that holds the mark of a truly great songwriter, and makes the spirit of The Siren Tower familiar.
'A History Of Houses' is beautifully packaged in a 64 page hard cover vintage book. The band are currently touring nationally throughout November / December.
We played 3 tracks from their new cd "A History Of Houses' :
–       Floods
–       King River
–       Last apple In The Big Man's Orchard
Check out the tour dates and latest news on the band's website – http://www.thesirentower.com/
4) THESE FOUR WALLS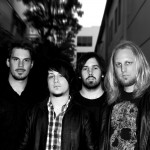 These Four Walls have enjoyed enormous success in their native New Zealand. Their debut album 'Down Falls An Empire'  released in 2009 produced two Top 10 singles 'Sweet December' and 'Lay It Out' with the album reaching #22 on the album charts.
The band has supported Disturbed, Nickelback, Karnivool and The Butterfly Effect in Australia and has undertaken numerous headline shows across New Zealand, consistently growing their fanbase.
In October 2011, These Four Walls started recording their second full-length album, travelling to Queensland to work with producer Matt Bartlem (Dead Letter Circus, The Butterfly Effect) at Loose Stones Studios. The band spent 8 weeks both living and working at the 3-studio complex on the Gold Coast, before sending the tracks down to Melbourne to be mixed by veteran engineer Forrester Savell (Karnivool, Birds of Tokyo, I Am Giant).
The first single 'Passenger' was recently released in New Zealand, where it debuted at No. 1 on the iTunes rock chart. The album, entitled 'Living to Write the End' was released on 12th October 2012 and debuted at #1 on the NZ JB HI FI  Album Chart. 'Passenger' also gained widespread airplay across Australia including the Triple M Network.
We played 2 tracks they recorded for this podcast  :
–       Sweet December
–       Passenger
Check out more on the band on their website – http://www.thesefourwallsband.com/
5) PLUDO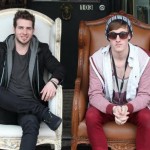 Pludo is an electronic/rock Australian group consisting of Anthony Kupinic and street bucket player Alex Cooper. Anthony began his professional music career as the lead vocalist  and songwriter with alternative rock band A Sound Mind. He wrote the feature singles 'The Power To Dream' which was featured in the NFL Superbowl 2011 highlights & the AFL 2011 Grand Final.
Anthony also wrote the song 'Grace' which has been played on more than 65 radio stations across the globe – he has toured throughout Europe and Australia and sold in excess of 40,000 records. Following the split of A Sound Mind late  2010, Anthony spent the next sixteen months writing, recording and producing Pludo's debut album 'The Only Thing Certain Is The Future'. The first single to be released from the album is 'Frenemies' which is enjoying widespread airplay across Australia including the Triple M Network.
Pludo originally started as Anthony's solo project but whilst in Sydney he befriended sticks wizard Alex Cooper whom he witnessed busking on a drum kit made out of buckets! Amazed at Alex's raw talent and ability, the pair had a few jam sessions and realised that not only did their different styles gel together but Alex brought  a much needed electric energy to the live performance of the songs.
We played 2 tracks they recorded for this podcast  :
–       Haywire
–       Frenemies
Check out  more on Pludo on their website – http://pludo.com.au/
Photos from the night (Thursday, October 25th, 2012) :
SERENDIPITY AND MARK
Website details :
88.3 Southern fm : www.southernfm.com.au
Mark Copolov : www.mcopolov.com
Other podcasts by Mark Copolov include :
– interviews with Micky Dolenz, Paul Anka, David Essex, Daryl Braithwaite, Gene McDaniels, Mike Heatley & Andy Timmons (more will be loaded later). 'Live In The Studio #1'
The End!
Related Posts:
Please follow and like us: