Updated 8/12/2016
Last night my wife Rachel & I had the pleasure of meeting Mickey Dolenz and Peter Tork  during their sound check. It was terrific to meet Mickey after having done the below phone interview
with him. They then put on a terrific concert & made my day by doing 'She'. Mickey was in fine voice. I highly recommend seeing them.
Their remaining Oz dates (9/12 – 16/12), details & tickets  are at http://tombowler.com.au/tours/the-monkees/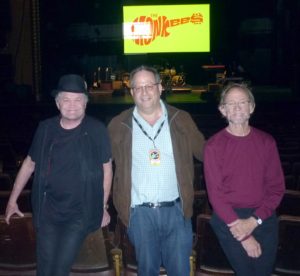 Mickey Dolenz, Mark Copolov and Peter Tork
"Here he comes, walking down the street". It all went crazy when he became the drummer of The Monkees. After a significant career as a child actor Mickey Dolenz, (along with his Monkees bandmates) became an international star with a hugely successful TV series and a string of chart topping hits, many of which Dolenz sang lead vocals on. Now, with a sensational autobiography, plenty of work in front of and behind the camera in Hollywood, a role in the latest stage production of "Hairspray" and a new music release he is busier than ever.
Find out all about what Micky is up to and hear some of his new tracks from his new release "King For A Day" on Southern FM in the next few weeks. Check out Micky's website as well http://www.mickydolenz.com
In the meantime you can hear his interview with Mark Copolov simply by clicking on the play button below.
Related Posts:
Please follow and like us: