Kim Boekbinder – "The Impossible Girl" this Sunday on the Live Sunday Sessions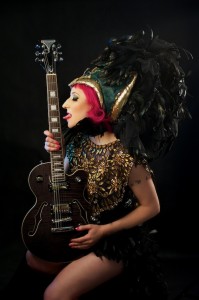 Born in Canada, based in New York City and now kicking it around in Collingwood with a name that sounds like it came from the  Transvaal, Kim Boekbinder is one of those rare performers who should not be catagorised or pigeon-holed. She may be first and foremost a musician but in reality she is multi instrumentalist performer and most of all an "entertainer".
With a bunch of credits, kudos and a number of very interesting musical liaisons and relationships along the way, the chameleonic one has also played a leading role in how to reach an audience via the newer methods such as social and networking media, actually financing her "Impossible Girl" album project through the support of fans.
Currently playing an April residency at The Evelyn Hotel, 88.3 fans can catch a unique glimpse of this one woman storyboard as she plays a full one hour live set in the Southern FM studios this Sunday from 4-5pm.
"This solo effort contains all the melodic quirk and whip-smart lyricism that have gained her a rabid cult following over the years, but with perhaps even more focus and perspective than she's ever been able to harness." – CDbaby.com
Related Posts: