Live Sunday Sessions features the folkTrain !!
The Folk Train today on the live Sunday Sessions at 4pm.
Featuring: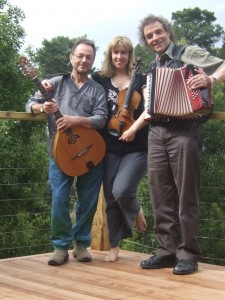 Chris Stack Vocals, Guitar, Octave Mandolin, Banjo & Harmonica
Saskia Adams Vocals, Fiddle & Guitar
Rudy van den Bovenkamp Vocals, Fiddle, Accordion, Mandolin, Harmonica, Guitar & Pan Pipes
The current folkTrain line up got together in 2010, and all three members are based in Victoria's Dandenong Ranges. The band plays a mixture of original and traditional folk songs.
Tune in from 4pm today to here this amazingly talented 3 piece Band playing live in our Mentone Studios.
Tune in via www.southernfm.com.au and for more information about the band check out http://www.folktrain.webs.com
Related Posts: