Megan Bernard Live Sunday Session this Sunday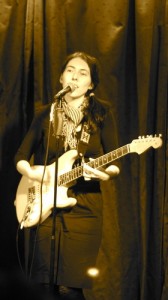 Megan Bernard is a singer/songwriter/guitarist based in Melbourne. Her self penned music sits comfortably in the Alternative Pop genre, but she still can "bust out" on her renowned turquoise blue strat. Megan's love affair with the guitar was elevated in 2002 at the age of seventeen when she moved to Melbourne to study jazz improvisation. A natural songwriter, her lyrics are honest, sensitive and vulnerable.  The highly regarded guitarist can currently be seen performing solo in Melbourne at venues including The Drunken Poet, The Wesley Anne, and The Edinburgh Castle.
Megan will embark on a national tour late in 2012 to promote the release of her debut solo album release Big Dreams.
Don't miss her one hour live in the studio performance this Sunday live on 88.3 from 4pm.
"Seeing accomplished Melbourne singer-songwriter Megan Bernard play live and solo reminds me of ladies from Italy making pasta from scratch. She puts love into each note, pummelling it and stroking it in a way that makes it look easy as pie, all the while noodling away on a delicious musical feast that leaves you satisfied, patting your tummy and knowing that you've just witnessed authenticity at its finest."
Jenny O'Keefe, The Breakfast Spread, PBS FM 106.7.
http://www.megan-bernard.com/fr_megan.cfm
Related Posts: