Nicolette Forte on Live Sunday Sessions today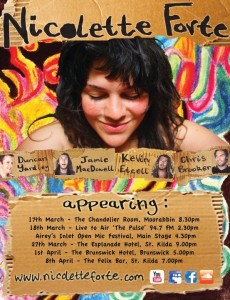 The Live Sunday Sessions this week features soulful Melbourne chanteuse Nicolette Forte. This will be a particularly excellent Sunday Session as Nicolette's style is perfect for the intimate nature of one of these live sets. Big voice, mellow tunes and fine musicianship will be the order of the day as you listen in for a full hour of this very talented lady.
You gotta love a girl and a guitar!!
Listen in or catch it on the live stream from 4-5pm today.
http://www.myspace.com/nicoletteforte
https://www.facebook.com/pages/Nicolette-Forte/129588883778027
Related Posts: