Peter Chapman Live Sunday Session – Woohoo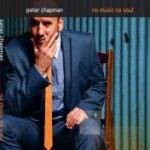 Melbourne's very own soulful artist Peter Chapman is getting rave reviews for his latest release CD "No Music No Soul".
It is easy to see and hear why as Peter, known for his humble persona, is definitely not new to the music scene with years of crafting his live performance and an endorsement by Australian guitar manufacturer Cole Clark under his belt. Peter's soulful infusion of musical styles is evident in his high calibre artistry within the Australian music scene.
Peter is executive producer on his latest release. 'No Music No Soul' was recorded in Melbourne, co-written with Shaun Gardener who also worked on the album as producer. All tracks were mastered in the US by Grammy Award winner Adam Ayan, Bob Ludwig's protégé at Gateway Mastering in Portland, Maine. The names Adam Ayan and Bob Ludwig speak for themselves, having previously worked with some of the world's elite from Radiohead, Jimi Hendrix, Eric Clapton, David Bowie, Rolling Stones, Queen, Beck, Bruce Springsteen, U2, Simple Minds, Led Zeppelin, Foo Fighters, Pearl Jam and The Who.
The title track from Peter's 'No Music Soul' album is currently available at all good online stores but you can hear the man himself for a full our live on Sunday afternoon.  It will be another stirring performance by a great Melbourne artist.
https://www.facebook.com/peterchapmanmusic?sk=info
Related Posts: