THE ROMEO KNIGHTS ON THE LIVE SUNDAY SESSIONS THIS WEEK
Comprising of Adam Kurzel (Guitar/Vocals), Luke Price (Drums) and Sam Murray (Bass), The Romeo Knights craft bluesy grit rock swamped with humming bass lines, snotting drums and raspy, fuzz guitars with all three members having performed in a slew of bands prior to this final settled line up.
A festival favourite the band's resonant drive has seen them perform at the Mordialloc Festival, two consecutive years at Melbourne's Basin Music Festival, the St.Kilda Festival and Esplanade Hotel's Rock The Bay Festival.
Now, they return as second timers to the Live Sunday Sessions with some great new material.
Check it out this Sunday live on the airwaves from 4-5pm.
Read more: https://www.facebook.com/RomeoKnights
See more: http://www.youtube.com/watch?v=NANsadnWo8g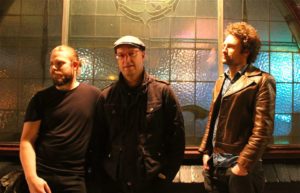 Related Posts: