Aldo Lennard – leading Australian music promoter 'Live in the studio' with Mark Copolov on Purple Haze – Podcast (1hr 30 mins)
In this podcast, Mark interviews Aldo Lennard, the principal of Lennard Promotions, who are celebrating over 30 years of success as leading promoters of local and international music events throughout Australia and New Zealand.
They have had continued success with sell-out shows nationally of such greats as James Brown, Deep Purple, Willie Nelson, Alice Cooper, Elaine Paige, America, Emmylou Harris, Rick Astley, Engelbert Humperdinck, The Chieftains, The Bangles, Imperial Circus of China, Manhattan Transfer, Suzi Quatro, Village People, Sebastian Bach, Neil Sedaka, Eric Burdon, The Stranglers, The Black Crowes, Aled Jones, Weird Al Yankovic just to name a few.
In this interview with music, Mark & Aldo talk about:
– the upcoming Ringo Starr tour of Australia & New Zealand in February 2013, a deal that took Aldo 12 years to secure
– each of the members of Ringo's All Starr Band, who have an amazing track record. They include : Todd Rundgren & Steve Lukather
– how Aldo started on stage with his brother and how they achieved a Top 10 single hit in the late 60's
– some of Lennard Promotions upcoming tours
To listen to and/or download this podcast, click on the section below :
Podcast: Download
Subscribe: RSS
Aldo and Mark at 88.3 Southern Fm on Wednesday 20th December 2012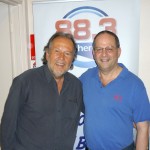 Lennard promotions official website is at  www.lennardpromotions.com.au
Website details :
88.3 Southern fm : www.southernfm.com.au
Mark Copolov : www.mcopolov.com
 Other podcasts by Mark Copolov include :
– interviews with Normie Rowe, Russell Morris, Micky Dolenz, Paul Anka, David Essex, Daryl Braithwaite, Gene McDaniels, Mike Heatley, Andy Timmons, 'Live In The Studio #1 & #2 (misc. local acts)'
The End!
Purple Haze is sponsored by Classic Cars with Character
Related Posts: