Johnny Young interview with Mark Copolov on Purple Haze (podcast of exactly 2 hours)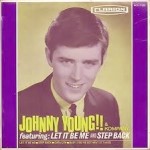 In this podcast, 88.3 Southern FM 'Purple Haze' presenter  Mark Copolov interviewed Johnny Young 'live in the studio' on Wednesday January 22nd 2014. Johnny's highly successful career has included him being a singer, songwriter, record producer, disc jockey, television presenter (an amazing 19 years with Young Talent Time) & record producer.
Some of the topics Johnny & Mark talked about included : Johnny's upcoming national concert tour with Colleen Hewett & Normie Rowe, some of Johnny's past hits (Step Back, Caralyn, etc.), some of the hits he has written for other artists (The Real Thing, The Girl That I Love, Smiley, The Star etc.), his friendship with Barry Gibb and many other topics were covered too.
'Special guest' Russell Morris phoned in to talk about The Real Thing & The Girl That I Love. Both these songs were written by Johnny & sung by Russell & both reached #1 nationally , with The Real Thing being in the national charts for nearly half a year!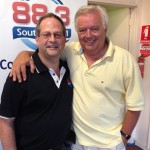 Johnny & Mark at 88.3 Southern FM  (22/1/2014)
Click play below to hear the show in full.
Podcast: Download
Subscribe: RSS
Other podcasts by Mark Copolov include : interviews with Russell Morris, Normie Rowe, Colleen Hewett, Brian Cadd & Glenn Shorrock, Micky Dolenz, Paul Anka, David Essex, Daryl Braithwaite, Gene McDaniels, Mike Heatley, Andy Timmons, 'Live In The Studio #1 & #2 (misc. local acts)' & Derryn Hinch.
Website details :
88.3 Southern FM : www.southernfm.com.au
Mark Copolov : www.mcopolov.com
Mark's email :  mcopolov1@nullbigpond.com
Purple Haze is sponsored by Classic Cars with Character
Related Posts: