Normie Rowe – 'Live in the studio' with Mark Copolov on Purple Haze – Podcast (2 hours) & a review of 'Normie The Musical'
Iconic Australian iconic singer & songwriter Normie Rowe was Mark Copolov's special guest 'live in the studio' on Wednesday November 14th for Mark's version of 'Purple Haze'.  In this podcast, an edited version of that show,  Normie talked about  his upcoming stage show 'Normie The Musical', which charts the highly successful 1960's experience of Australia's first 'King Of Pop', Normie Rowe!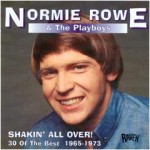 Normie also talked about  some of his classic hits, which included : It Ain't Necessarily So, Oh La La, Shak'n All Over, It's Not Easy, Penelope & some songs from Les Miserables, amongst others.
Normie so far has had 11 national Top 25 hits, 5 of which were Top 10. Normie was awarded an AM (Member of the Order of  Australia) for his long time contributions to the Australian music industry, as well as his contribution to charity and his tireless work with Vietnam vets.
Normie's official website is at  http://normierowe.com.au/
To round this podcast up to exactly 2 hours, it finishes off with some tracks from Normie's ep "Missing From Missing In Action".
You can listen to and/or download the Podcast using the below podcast player.
Photo from the night (Wednesday November 14th, 2012) :
MARK AND NORMIE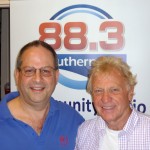 A review of 'Normie The Musical' by Mark Copolov:
"On November 24th, 2012, my wife Rachel & I attended the second night of 'Normie The Musical' at my old school, Scotch College in Hawthorn, Melbourne. I thought the entire show was amazing. This was amateur theatre at it's best…an interesting story of how Normie Rowe had extreme ups & downs in his life but at the end of the day, he came out alright & is still performing, currently as Prime Minister Harold Holt in this production!
It was wonderful to see Normie on stage, acting & singing with such conviction. One could see that all 28 performers on stage had theatre 'in their blood'. The singing, dancing & acting was superb all round. Besides Normie's terrific performance,   I 'd like to 'put the spotlight' on : Julian Campobasso, who played Normie. He did a great job all round & how challenging it must have been portraying a famous person who was actually on stage with him, especially having to sing Normie's songs with Normie listening!
I had the pleasure of knowing  the late Aussie dj legend Stan 'The Man' Rofe & I reckon Stan would have been very happy with David Ferrier's portrayal of him.
Other highlights to me were : Chris Handley – his Russian song was terrific, Emma Newman's acting, singing  & dancing was superb. One could hear what a great singer Drew Collet is. David McLean's acting ability as Sir Robert Menzies to me could see him in any of the London West End shows.
Musically, it was so good to hear so many of Normie's great songs ranging from It Ain't Necessarily So, through to Shakin' All Over, It's not Easy & Turn Down Day but where was Penelope? Maybe they can include that in 'Normie The Musical Part 2?! The original songs written by Graeme Johnstone & Peter Sullivan were very interesting, especially the very moving Lest We Forget. The orchestra played flawlessly.
This production to me did not seem like amateur theatre at all, it seemed like a fully fledged professional production. Accolades to every one involved, on stage &  backstage but especially to producer Richard Beveridge for bringing it all to life so well .
I highly recommend this musical to anyone who wants to have a really entertaining, informative & enjoyable theatre experience.
This musical was put on by OSMaD, which is part of Scotch College. OSMaD (the Old Scotch Music and Drama Club) had it's beginnings in the Old Scotch Music Club formed originally in October 2005. Scotch College has an association with Music and Drama which now stretches over 160 years and has a warranted reputation for excellence. However, there had been little opportunity for past students to continue their involvement developed during school days, hence OSMaD provides an avenue to allow Old Boys to continue their involvement in music.
For more information about OSMaD, go to www.osmad.com.au
The below photo of Normie, with my wife Rachel & I was taken after the performance. I've found Normie to be a real pleasure to work with & I wish him all the very best for the future".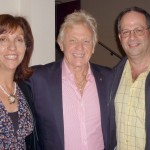 Website details :
88.3 Southern fm : www.southernfm.com.au
Mark Copolov : www.mcopolov.com
Other podcasts by Mark Copolov include interviews with : Russell Morris, Micky Dolenz, Paul Anka, David Essex, Daryl Braithwaite, Gene McDaniels, Mike Heatley, Andy Timmons, 'Live In The Studio #1 & #2 (misc. local acts)'
Mark Copolov : www.mcopolov.com
Purple Haze is sponsored by Classic Cars with Character
Related Posts: