TONIGHT! Purple Haze, Wednesday 29th August 2018 8-10pm, with presenter Mark Copolov – special guests The Eagles Story to perform 'live in the studio'
On Mark's version of 'Purple Haze', he will present:
The amazing Eagles cover band 'The Eagles Story', who will perform 6 songs 'live to air' and unplugged
new releases by : Paul McCartney, Graham Bonnet, Mike McClellan, Judith Durham & Rudely Interrupted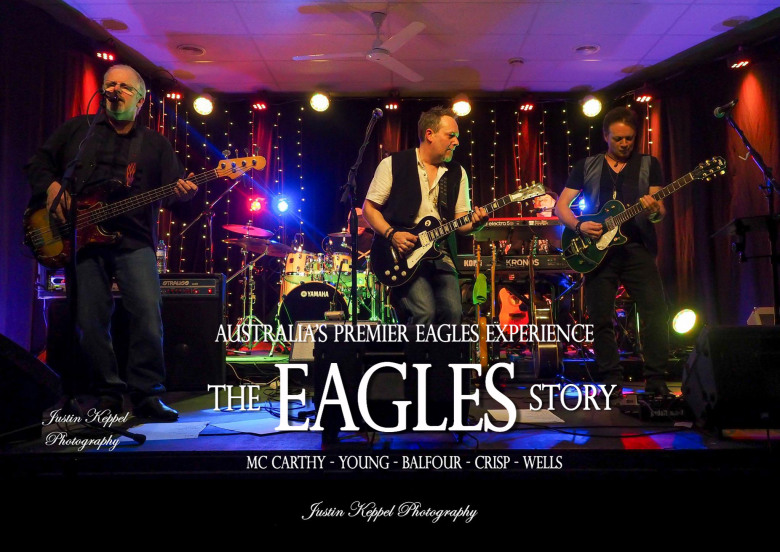 Here's The Eagles Story press release:
Legends are born and not made, or so they say. The Eagles legend began in California, way back in 1971, The Eagles Story began right here in Melbourne 10 years ago and through them and the music that became the soundtrack to a generation, the legend continues to prosper and grow.
Over the years the line-up of the band has changed, just like the originals, and has evolved into what you see today. Featuring five of Melbourne's most in demand and respected players and vocalists, the band has all of the ingredients needed to replicate some of the greatest vocal arrangements and complex melodies ever produced.
With such a huge catalogue of hits to choose from, the most difficult task for the band is deciding what songs to leave out, but don't worry, from One of these Nights to Lyin' Eyes to Peaceful Easy Feelin' and with a brief stopover at the Hotel California along the way, the show never leaves you wondering. You will know every song and every song in turn will take you back to a time and place when life was just a little less complicated and just maybe, a whole lot more fun.
The level of commitment from The Eagles Story to deliver the type of experience that can only come when great musicians are playing great songs is beyond doubt. Filled with amazing harmonies, memorable melody lines and those incredible guitar duels that became trade mark for the band, these Melbourne masters continue to perpetuate the glory that is the music of The Eagles.
Unlike other tributes to The Eagles, The Eagles Story is all about reality, real voices, singing real harmonies and real players, making great live music; "it was that way for the originals and it is that way for us".
The Eagles Story is Pete McCarthy, Gary Young, Ash Osgood, Cres Crisp & Steve Wells. Their credentials are unquestionable with each member having honed their craft over many years playing with some of the best known Australian rock, jazz and blues performers.
Regards to all,
Mark Copolov
mcopolov1@nullbigpond.com
Purple Haze is sponsored by Classic Cars with Character
Related Posts: