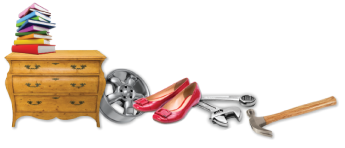 Free to list and free to receive, ziilch is online trading with a conscience. Become a member and be a part of creating a revolution in the re-use and recycling of everyday items you no longer need, that others may find useful.
ziilch provides individuals, businesses, charities, not for profit and social enterprises a free online website to list unwanted and search for wanted items across a broad range of categories, including furniture, electrical goods, clothing, office, general household, garden and outdoor, automotive and computers – to name just a few.
It costs ziilch to list an item
It costs ziilch to want an item
It costs ziilch to take an item
In Australia and globally, households and businesses are committed to doing their bit for the environment, however we have little choice when it comes to getting rid of hard waste and more often than not, at a significant cost to ratepayers and to the environment, we rid ourselves of these items into landfill.
How often have you replaced working household items for brand new ones, have left over renovation materials sitting in the shed or a much loved but unused cubby house in the yard? The fact is that most of us would much rather see our old and no longer used items put to good use in someone else's home, business or by recipients of a charitable organisation, and this is where ziilch comes in!
Sound good? Here are a few more great reasons to use ziilch to give and receive, recycle and re-use;
Reduce unwanted clutter in your home
Reuse another's unwanted items
Help the environment by reducing landfill waste
Minimise your environmental footprint
Find great free bargains
Free, simple and fast online recycling
Reduce curb side dumping
Be a part of creating a sustainable community free trade platform
Contribute to hard rubbish collection savings for Councils and ultimately for ratepayers
ziilch also features Organisation Listings so that you can check to see what charities, not for profit organisations and social enterprises are in need of, and potentially help someone less fortunate than you. The site also includes a comprehensive Services Directory with helpful information about all matters relating to recycling, re-use and collections in your area.
Related Posts:
Please follow and like us: