Geoff's the star man
You might call him a star-stalker, but Geoff Lipton has met dozens of international superstars and movie legends. He's even made statues of them, including the one of Bob Hope in the photo with Geoff. In this podcast, Geoff is chatting with Colin Tyrus. 
Podcast (2): Download
Subscribe: RSS
As heard on the Bayside U3A hour of The Community Block on Tuesday 28 September 2021.
Photo below: Geoff Lipton with James Stewart.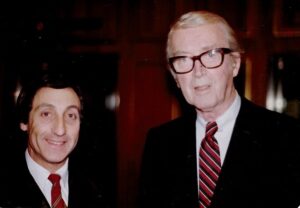 Related Posts: