Dreamboogie Live Sunday Session this Sunday
The wait is over. After protracted contract wrangling, our people getting together with their people, the huge expense of buying up over $5,000 worth of M & M's just so we could pick out the blue ones and another $2,000 so we could provide a bathtub filled with still water from the mountains of Tibet to satisfy their appearance rider criteria, the day we have sweated on has finally arrived, Dreamboogie live in the Southern FM studios.
This will be a "very special episode" of the Live Sunday Sessions, not the type where a favorite character dies or an emotionally charged relationship comes crashing down, it is just going to be full tilt boogie, live to your radio for an entire hour with Maurizio working his way around the frets with dazzling speed, Connor and Robert.B.Dillon pounding out an awesome accompanying hypnotic rhythm whilst we find out if the studios are big enough for the live antics of effervescent vocalist Bex Davey, one of the most entertaining blues performers going around.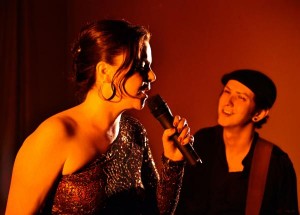 Don't miss this one, Sunday 21st August from 4pm – 5pm on 88.3, streaming live around the world 24/7….woooofff!!
Dreamboogie's new release debut full CD "I'm Ready" is being launched this Thursday night (18th August) at Eurotrash. For more information visit here: http://www.facebook.com/dreamboogie
Related Posts: