Sunday Live Sessions TODAY presents – Deep Creek Road
Melbourne based Country/Rock Duo Deep Creek Road are our guest's Today Sunday June 30th "live" on the wireless from 4-5pm….
This talented Duo are dropping in to chat and play some of their tunes before heading off to Nashville in the USA tomorrow. Join us and let's give them a great send off.
88.3 Southern FM, supporting live and local.
Don't forget to tell your friends around the country and overseas as we live stream worldwide via our website and on your smatphone using the Tunein app.
www.deepcreekroad.com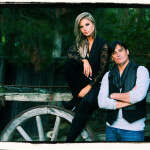 Related Posts: