Film review: 71 from 'Built For Speed'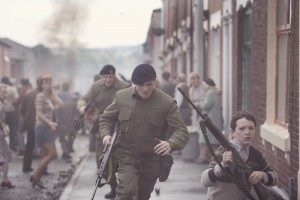 71 is a tense atmospheric and often moving drama set in Northern Ireland in 1971 as the so-called 'troubles' began to spiral out of control.
Jack O'Connell (who recently starred in Unbroken) plays young naive British soldier Gary Hook who is hoping for a comfortable posting in Germany but finds himself thrust into the forbidding urban warzone of Belfast.  As part of a peace-keeping force to prevent bloodshed between the Protestant Loyalists and the Catholic IRA, Gary finds himself in the middle of a chaotic and seemingly hopeless situation.  When he becomes separated from his regiment during a riot he is forced to hide out from the IRA in dilapidated buildings and backyards as he tries to make his way back to his barracks.  His odyssey through Belfast's dangerous streets sees him encounter various locals whose lives have been damaged by the fighting and who have varying levels of contempt and compassion for Gary.  He also discovers that not only is he a target for the IRA target but also corrupt elements from his side.
This success of this film lies in the way first time (feature) director Yann Demange is able to drops us into the broiling cauldron of 1970's Belfast.  He powerfully depicts a dark, threatening, out of control world where alliances are of little value and safety is an illusion.  In this morally ambiguous world, guilt, innocence, right and wrong are never clear.
While this gritty, engrossing and assured film forges a distinct identity, aspects of 71 are admittedly familiar.  The film's depiction of young soldiers thrust into a situation beyond their understanding and control where they have to deal with hostile civilians recalls Platoon.  71 also references the films of Paul Greengrass, particularly Green Zone in its depiction of a decent soldier confronting destructive, inhumane forces among his supposed allies.  There's even a touch of Escape from New York in its portrayal of a lone soldier fighting his way through a dark and intimidating urban landscape.  
Jack O'Connell delivers a fine if not indelible performance as Gary and conveys an authentic mix of bravado, naiveté and ultimately abject terror.  Appropriately, he doesn't offer Rambo heroics or John Maclean wise-cracks just a desperate attempt to survive in an overwhelming situation.  The film features a large ensemble cast as it explores a variety of sub-plots which involve alarmingly vitriolic special ops officers and members of Gary's platoon.  For the most part performances are convincing although the film does contain the jarring cliché of the nervous bumbling young lieutenant (Sam Reid) whose decisions lead to disaster.
Set in 1971 there's plenty of big hair and questionable fashion but the art direction never overwhelms the film's poignant message.
While this film is often thrilling and contains a potent and bruising depiction of war it never seeks to glorify conflict. The film's attitude to war is summed up by one character who (to paraphrase) exclaims that war is about rich people forcing uneducated people to shoot poor people.
71 is a powerful and confronting portrayal of conflict and of the dubious hierarchies that operate within it.
Nick's rating: ****1/2.
Genre: War/ drama.
Classification: MA.
Director(s): Yann Demange.
Release date: 19th March 2015.
Running time: 99 mins.
Reviewer: Nick Gardener can be heard on "Built For Speed" every Friday night from 8-10pm right here on 88.3 Southern FM.  Nick can also be heard on "The Good, The Bad, The Ugly Film Show" podcast. http://subcultureentertainment.com/2014/02/the-good-the-bad-the-ugly-film-show
Related Posts: