Film review: FOCUS, from Built For Speed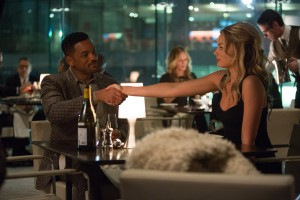 The con-artist movie is such a well-worn genre that the scams and deceptions that drive them are often a little too predictable.  It's refreshing then that's Focus starring Will Smith and Margot Robbie contains a few surprises.  Add to this some seductive lead performances, opulent style and propulsive energy and this is one of the better additions to the con-artist genre.
Smith plays Nicky, a Fagan-like con artist who runs a large crew of scammers and wallet lifters who hit major events around the U.S. He's a con artist of near savant genius ability who is seemingly able to extract money from rubes at will. When newbie scammer Jess (Margot Robbie) foolishly tries to make him the target he's instantly smitten by her and agrees to take her into the fold as his apprentice. Their romantic entanglement produces complications when he attempts to swindle Garriga (Rodrigo Santoro) a wealthy racing car owner with whom Jess has becomes involved.
This is an enjoyably slick caper movie with a series of cleverly conceived scams punctuating the story.  A sequence set during a grid iron match, in particular, is terrific. The problem is the big con involving Garriga is all build up with little pay off. There's a twist of sorts but many audience members will be in on the scam early on. This lack of a killer twist leaves the film feeling insubstantial.  The film briefly hints at a subtext which asks 'where can someone find truth when they have submerged themselves in a world of deception' but it doesn't explore this existential theme to any depth.
Focus, however, belongs to Smith and Robbie whose sparkling on-screen chemistry enlivens every scene in which they appear together.  This is one of Smith's better roles largely due to the fact that he tones down his usual posturing shtick and plays it cool. Robbie charms throughout and  also shows a gift for quirky comedy reminiscent of Emma Stone.  The film also contains some terrific supporting performances particularly from Gerald McRaney who plays Garriga's gruff, contemptuous henchman who despises any person or popular trend that came into existence after 1950.
In addition, Focus also benefits from a terrific soundtrack that includes classics from The Rolling Stones and Iggy and the Stooges and newer material from the likes of Edward Sharpe and the Magnetic Zeroes.
The film may fizzle right at the end but there's plenty to enjoy throughout this energetic, cleverly made caper film.
Nick's rating: ***1/2.
Genre: Crime/ drama.
Classification: MA.
Director(s): John Requa, Glenn Ficarra.
Release date: 5th March 2015
Running time: 105 mins.
Reviewer: Nick Gardener can be heard on "Built For Speed" every Friday night from 8-10pm right here on 88.3 Southern FM.  Nick can also be heard on "The Good, The Bad, The Ugly Film Show" podcast. http://subcultureentertainment.com/2014/02/the-good-the-bad-the-ugly-film-show 


Related Posts: