Film review: FOXCATCHER, from 'Built For Speed'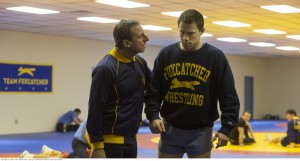 The riveting true-crime drama Foxcatcher explores the strange and catastrophic relationship between champion American wrestling brothers Dave (Mark Ruffalo) and Mark Schultz (Channing Tatum) and their disturbed patron, du Pont chemical company head John du Pont (Steve Carrell). 
Mark Schultz won a gold medal in freestyle wrestling at the LA Olympics in '84 but neither lucrative endorsements nor regular income followed.  By the late 80's he was eking out an existence in a dilapidated flat while still training for world championships.  Out of the blue he received a phone call summoning him to the home of chemicals billionaire John du Pont.  The chemicals magnate surprisingly wanted to form a wrestling team with himself (despite limited training) as head coach and Mark as his champion.  In return, Mark would have the opportunity to train with a hand-picked team in a state-of-the-art facility amid the old world luxury of du Pont's vast 'Foxcatcher' estate.  Du Pont also recruited Dave Schultz for what seemed like a wrestling dream team but as paranoia took hold of the severely troubled du Pont, the venture went hideously awry and ended tragically.
Foxcatcher is a fascinating story of misguided masculinity, the desire for acceptance and the need for success. It's also a film about America's twisted priorities, its enslavement to wealth and it's triumphalism in victory then neglect of its battle-scarred heroes, in this case sportspeople but it does contain allusions to the plight of war veterans.  
Most insightfully, though, this is a film about the insidious and destructive power of family conflict.  Du Pont is portrayed as a man oppressed almost Norman Bates-like by his disapproving Mother (Vanessa Redgrave).  As a youngster, he was forced to forego the violent release of combat sports like wrestling and instead made to compete in show-jumping, something that apparently fostered bitter life-long resentment.  Similarly, Mark is desperate to emerge from the shadow of his respected brother Dave who, after their parents' divorce had become a surrogate father to Mark. This film centres on the battle between two would-be fathers, Dave Schultz and John du Pont who seek to control Mark's life.  Director Bennett Miller and writers E. Max Frye and Dan Futterman extend this familial conflict to America more broadly with references to the sad upheaval of the American civil war. 
Foxcatcher could have easily been a pumped-up sports drama but Miller cleverly subverts our expectations by focusing on the du Pont's mental disintegration and the inescapable tragedy engulfing the Schultz family.  With deliberate pacing and an emphasis on the characters' state of mind, Miller has crafted a superbly eerie slow-burn thriller.
Steve Carrell better known for comic roles was an unusual choice for the lead in a psychological thriller but he effectively conjures a creepily manipulative and paranoid figure in du Pont.  Thankfully, he doesn't portray him as a one-dimensional monster instead showing him to be generous, funny (if not always intentionally) and yet sad in his delusions and his desperate desire for acceptance.  It's a mostly successful performance but a more seasoned dramatic actor such as Gary Oldman (who was touted for the role) may have brought something even more profound and moving to the role. Also, Carrell's prosthetic make-up, particularly his prominent nose, is unnecessarily distracting as are some of his mannerisms such as holding his nose in the air and limping. 
As Mark Schultz, Tatum delivers possibly his best performance so far.   He looks like Schultz at the time, has the physique of an Olympic wrestler and compellingly portrays Schultz as a mix of passive naïveté and explosive aggression. Mark Schultz has, however, claimed that the script if not Tatum, misrepresents him and his relationship with du Pont.  He has dismissed the film's suggestion that there may have been some sort of homosexual relationship between them.  Regardless of any liberties taken with the real story, Tatum impresses beyond expectation.
As Dave Schultz, Mark Ruffalo again delivers a superlative performance.  Bulked up and bearded he looks more like GI Joe than the crumpled Ruffalo we know so well.  He totally inhabits the character of Dave Schultz portraying him as a decent and compassionate man driven by a deep concern for the younger brother he was called upon to raise.  Perhaps most impressively, Ruffalo like Tatum has clearly done the work in the gym as he moves like a genuine wrestler and coaches others as if he's been doing it his entire life.
Foxcatcher is an intriguing and superbly acted character study as well as an atmospheric and disturbing thriller and it will undoubtedly prove to be one of the years stand-out films.
Nick's rating: ****1/2.
Genre: Biographical/ drama.
Classification: M.
Director(s): Bennett Miller.
Release date: 29th Jan 2015.
Running time: 129 mins.
Reviewer: Nick Gardener can be heard on "Built For Speed" every Friday night from 8-10pm right here on 88.3 Southern FM.  Nick can also be heard on "The Good, The Bad, The Ugly Film Show" podcast. http://subcultureentertainment.com/2014/02/the-good-the-bad-the-ugly-film-show 


Related Posts: