Film review: FROZEN, from Built For Speed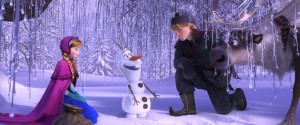 What would an oppressively hot and sweaty Australian Christmas be without an animated Disney fantasy set in a wintery wonderland.  Disney's' Christmas offering for 2013 is tween-oriented girl-power  adventure, Frozen which is based on Hans Christian Anderson's fable The Snow Queen.
Kristen Bell stars as the voice of irrepressible teen princess Anna whose family rules the fictitious kingdom of Arrendelle. Following a childhood incident, Anna has watched her older sister Elsa (Idina Menzel) mysteriously become withdrawn and isolated.  When Elsa inherits the throne, the reason for her isolation, a seemingly uncontrollable magical ability to conjure ice and snow out of thin air is revealed. Labeled a witch, Elsa disappears into self-imposed exile in the far reaches of her kingdom. Desperate to find her, Anna sets off on a treacherous journey through the now permanently icy world of Arrendelle.
Accompanied by mountain man Kristoff (Jonathon Griff) who looks remarkably like Australian cricketer Shane Watson and a comedy relief snowman named Olaf (Josh Gad), Anna confronts ferocious blizzards, savage wolves and giant Snow monsters on her way to a showdown with Elsa.
This is a typical Disney confection of high-spirited adventure and cute, quirky humour which also has at its core a moving story of a lost soul. For an animated film it's handled intelligently with some genuinely poignant moments as Elsa tries to understand her place in the world.  As such, this film will appeal more to those aged 10 and up than to the littlies. The really young kids might also be freaked out by the rampaging snow monster.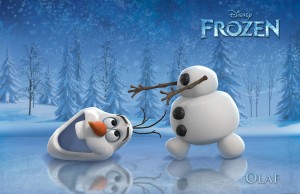 Youngsters and people of all ages, however, will enjoy the very lively and likeable Anna and her mix of feisty attitude and clutzy comical antics.  Idrina Menzel also does fine voice work as Elsa, investing her with a touching melancholic quality.  Josh Gad is terrific as the disaster prone snowman Olaf, delivering some clever and genuinely funny gags and even hitting us with a Sammy Davis Jr. impersonation.
Unfortunately, Frozen is also cursed with dreaded Disney songs most of which are bland, tuneless power ballads.  A couple of the songs are tolerable but they tend to slow the action unnecessarily.
Technically, the film again confirms that Disney has usurped Pixar's title of most cutting-edge animation house as this film's 3D images feature astonishing depth detail and clarity.
The film sags in places so youngsters will occasionally become restless but for the most part this is a fun, amusing and engaging adventure and a superior piece of animated film-making.
Nick's rating: *** 1/2.
Genre: Animated adventure.
Classification: PG.
Director(s): Chris Buck, Jennifer Lee.
Release date:  Dec 26 2013.
Running time: 102 mins.
Related Posts: