Film review: JOY from 'Built For Speed'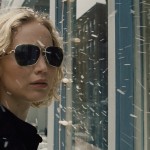 Time once again to enter the wonderfully off-kilter but seeringly insightful alternate reality of David O Russell's films. His two previous offerings Silver Linings Playbook and American Hustle were an intoxicating mix of comedy, drama and romance that provided some of the best cinema entertainment of recent years. With those films Russell established an ensemble of actors including Robert de Niro, Bradley Cooper and Russell's muse Jennifer Lawrence all of whom have returned for the funny and moving biopic of self-made business woman and Miracle Mop inventor Joy Mangano.
Joy has all the Russell trademarks: sparkling, witty, honest dialogue; family dysfunction and a story of squashed dreams in which underdogs desperately try to overcome seemingly insurmountable obstacles and in the process discover something profound about them self.
Jennifer Lawrence plays the eponymous Joy, a struggling working mother struggling not only with multiple mortgages and the problems of being a single parent but also bickering between her Mother (Virginia Madsen) who hibernates in a room in Joy's house watching soap operas, her Father (Robert De Niro) who takes up residence in the basement and a layabout ex-husband (Edgar Ramirez) who also lives in the basement. As a child Joy was remarkably inventive and industrious but her ambitions were crushed by domestic responsibilities. A chance for financial salvation and an outlet for her repressed creativity comes when Joy designs the Miracle Mop which she is convinced will prove a godsend to mothers. A burgeoning TV home shopping network seems to provide the perfect vehicle for Joy to sell her creation. Her desperate attempt to gain recognition for her invention is plagued, however, by dodgy manufacturers, sexist financiers and her crazed, self-centred family members.
David O. Russell's films thrive on controlled chaos and that's never been more apparent than in the domestic calamity that fills Joy's house. The banter between Joy and her oddball family is a riot while also providing potent insights into the bitterness that plagues families.
Like many Russell films, Joy has a nostalgic flavour and a clear debt to Martin Scorsese with its familiar shot compositions, affection for the seventies aesthetics and its use of music. Some of the classic rock tracks don't fit the contours of the scenes as sublimely as the songs in Marty's films suggesting that Russell has incorporated them simply because he likes them but who's going to argue when the tracks are as magnificent as The Rolling Stones' Stray Cat Blues or Buffalo Springfield's Expecting to Fly.
As much as an individual biopic, Joy is a parable of American industry with its depiction of a world where ingenuity is disappearing that little guy or woman is often squashed. This is far from a dark film, though, as the sentimental Russell gives Joy a positive undercurrent and even a fairy-tale feel when he includes soothing voice-overs from Joy's Grandma Mimi (Dianne Ladd).
David o Russell is an actor's director and his recent batch of films have given Jennifer Lawrence and Bradley Cooper their career best roles and Robert de Niro his best roles in decades. It's a little unusual to see Jennifer Lawrence shifting from teen warrior in The Hunger Games to working class mother in Joy but being such a fine actor she makes that jump seem effortless. Lawrence is such a likeable screen presence that when she achieves any sort of victory in Joy it's a genuinely emotional experience for the audience. Cooper brings the aura of charismatic sleaze he has cultivated in previous roles to full effect here as the evangelical tele-sales boss Neil Walker. De Niro is genuinely amusing as Joy's slightly unhinged Father while Isabella Rossellini ads an exotic touch as his unlikely girlfriend.
Joy is a little uneven in tone and doesn't quite cohere as well as Silver Linings Playbook and American Hustle but still contains the pleasures that made those films so wonderful and that have made David O Russell's recent films essential viewing experiences.
Nick's rating: ****.
Genre: Drama/ biopic.
Classification: M.
Director(s): David O. Russell.
Release date: 26th December 2015.
Running time: 124 mins.
Reviewer: Nick Gardener can be heard on "Built For Speed" every Friday night from 8-10pm right here on 88.3 Southern FM.  Nick can also be heard on "The Good, The Bad, The Ugly Film Show" podcast. http://subcultureentertainment.com/2014/02/the-good-the-bad-the-ugly-film-show
Related Posts: