Film review: MAGIC IN THE MOONLIGHT, from Built For Speed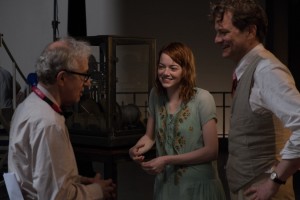 Magic in the Moonlight, the latest film from Woody Allen, is an engaging light-weight rom-com that explores familiar Woody Allen themes of existential angst, the search for life's meaning and the curative power of fantasy and romance.
Set in 1928, the film stars Colin Firth as misanthropic stage magician, self-proclaimed intellectual and avowed sceptic, Stanley who has earned acclaim for his astonishing stage act which he performs under the guise of Chinese mystic Wei Ling Soo. Much like Don Lane's old buddy James Randy, Stanley also enjoys debunking psychics and anyone claiming to have otherworldly powers. When his long-time friend Burkan (Simon McBurney) reports that he has found a young woman named Sophie (Emma Stone) who appears to have genuine paranormal gifts, Stanley agrees to attend the weekend séance she is conducting at the palatial Cote d'Azur residence of her latest client Grace (Jackie Weaver).  As Sophie reveals intimate and supposedly secret details about Stanley's life, Stanley starts to question the rational doctrine that has governed his life and to entertain the possibility that Sophie may really possess psychic powers. Is Sophie a genuine psychic or is Stanley allowing himself to be hoodwinked by an alluring young woman?
With its Gatsby-esque setting and sumptuous cinematography, this film warmly envelopes the audience in a charming romantic fantasy world. Who cares if we have seen similar themes played out in countless Woody movies or if actors stumble over a couple of lines, this is an endearing and at times intellectually stimulating experience.
Firth is excellent as the neurotic, obstreperous and arrogant rationalist Stanley, who seems to have taken a few cues from Big Bang Theory's Sheldon Cooper. Emma stone is utterly luminous and charming as Sophie and it will be interesting to see if she becomes one of Woody's muses. Eileen Atkins also has a brief but wonderfully dignified role as Stanley's aunt and mother figure. Elsewhere, supporting roles are slightly underwritten with Jackie Weaver afforded only a few lines of dialogue.
Woody doesn't appear in this one and the film clearly misses his feverish comical neurosis.  Also, the script contains only a couple of genuinely funny lines so Magic in the Moonlight is more of a subtly amusing romance than an out-and-out comedy.
The film stumbles toward the end with an abrupt resolution and serious moral questions left unanswered but for the most part, this is a charming addition to Woody's long and esteemed film making history.
Nick's rating: ***1/2.
Genre: Comedy/ drama.
Classification: PG.
Director(s): Woody Allen.
Release date: 28th August 2014
Running time: 97mins.
Reviewer: Nick Gardener can be heard on "Built For Speed" every Friday night from 8-10pm right here on 88.3 Southern FM.  Nick can also be heard on "The Good, The Bad, The Ugly Film Show" podcast. http://subcultureentertainment.com/2014/02/the-good-the-bad-the-ugly-film-show 
Related Posts: