Film review: 'OCEANS 8', by Nick Gardener from 'Built For Speed'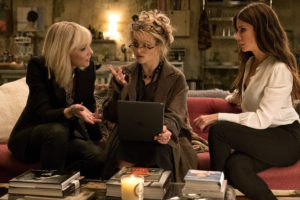 The Ocean's 11 etc movies are one of the less likely film franchises. Conceived in the 1960's as a Vegas lark for the Rat Pack, the concept was resurrected in the 2000's for George Clooney and a gaggle of his bros to play criminal hepcats ripping off casinos. With Ocean's 8, the Ocean's concept, like Doctor Who has reappeared in another form, this time with an all-female cast. While the gender switch is a welcome and redolent of the #MeToo era, this formulaic effort fails to genuinely excite.
Sandra Bullock essentially steps onto the George Clooney roll as Danny Ocean's sister, Debbie. Recently released from prison Debbie sees going straight and living a nine to five grind as out of the question. Her five years in prison have been spent planning the biggest score of her criminal career, the theft of multimillion dollar necklace at the famed New York Met Gala ball. To pull off the heist she needs an expert team, cue quirky character recruitment montage. Her crew consists of Lou (Cate Blanchett), expert hacker Nine Ball (Rihanna), pickpocket Constance (Awkwafina), fashion designer Rose (Helena Bonham Carter), diamond expert Amita (Mindy Kaling) and logistics wiz Tammy (Sarah Paulson). Their 'mark' in this heist is vain, self-obsessed movie star Daphne Kluger (Anne Hathaway) who will drape herself in the outrageously expensive diamonds at the gala.
The crime caper itself is reasonably elaborate and well-constructed even though we've seen the same sort of thing many times in the other Ocean's films and even the National Treasure franchise. Still, set amid the New York glitterati the film offers additional thrills for those enamoured of high fashion world and the Met gala ball also provides a sparkling setting for the heist.
Unfortunately, despite its star-studded cast the film lacks the necessary zing. Where it really falls down is in the lack of chemistry between the characters, particularly it's Oscar winning leads Sandra Bullock and Cate Blanchett. They're simply bland, unmemorable characters, a problem partly brought about by flat dialogue but also because of Bullock's excessively laid-back and hesitant performance. Cate Blanchett also isn't given much to work with apart from a general brief to look cool and slightly androgynous, a little like a cross between a 70's rocker and Darryl Hannah's android from Blade Runner. Sarah Paulson, who was so memorable in The People Versus OJ Simpson has something resembling a substantial role as she concocts much of the caper. Rhianna also brings some welcome street smarts to proceedings. Most of the other stars are given precious little to do especially Helena Bonham Carter and Mindy Kaling who have only a few scraps of dialogue.
The film briefly springs to life when James Corden appears as a relentless insurance investigator who gets in everyone's faces the way Corden does in his TV interviews. Some more of the quirky energy he brings to the film would have been welcome.
Oceans 8 is a tolerable time passer but given its stellar cast it's a lost opportunity.
Nick's rating: **1/2
Genre: Action/ comedy/ crime caper.
Classification: M.
Director(s): Gary Ross.
Release date: 7th June 2018.
Running time: 110 mins.
Reviewer: Nick Gardener can be heard on "Built For Speed" every Friday night from 8-10pm right here on 88.3 Southern FM.  Nick can also be heard on "The Good, The Bad, The Ugly Film Show" podcast. http://subcultureentertainment.com/2014/02/the-good-the-bad-the-ugly-film-show
Related Posts: