Film review: ONLY LOVERS LEFT ALIVE, from Built For Speed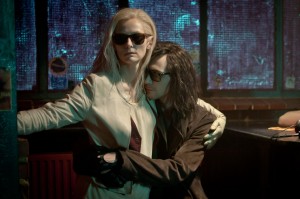 After a four year hiatus, Director Jim Jarmusch returns with his latest film Only Lovers Left Alive a typically quirky Jarmusch take on the much-abused vampire sub-genre.  Slow moving and largely uneventful this droll mix of horror film, gothic romance and rock star biopic provides a perplexing, occasionally amusing but underwhelming experience.
Thor's Tom Hiddleston plays Adam an ancient yet ageless vampire turned ultra-reclusive rock star who, after centuries spent hobnobbing with great composers, musicians and scientists has retreated to a dilapidated house in the urban wasteland of Detroit.   As a compassionate new age vampire he refuses the archaic practice of drinking blood from people and instead, secretly buys it from his blood bank connection Dr Watson (Jeffrey Wright).  Wallowing in despair at human (or, as he calls us, Zombies) ignorance and destructiveness, he becomes moderately more upbeat when his lover Eve (Tilda Swinton) arrives from Tangier. Their brief happiness is shattered when Eve's wild-child sister Ava (Mia Wasikowska) arrives unexpectedly, throwing their lives into chaos.
Those enamoured of Jarmusch's previous body of work will most likely adore this film as it contains his trademark witty, sarcastic dialogue, austere production values, dim lighting and a soundtrack full of atmospheric squalling guitar music.  At two hours and with a meandering esoteric plot that unspools at a leisurely pace, this film will, however, prove a befuddling chore for the unconverted.
Apart from a general sense of malaise and exhaustion with a corrupt world, exactly what Jarmusch is trying to convey through the characters' aimless lives isn't entirely clear.  The film touches on but doesn't commit to any specific genre as it contains only a slither of supernatural horror, isn't particularly romantic (despite focusing on Adam and Eve's relationship) and doesn't contain enough of Adam's music to function as a rock star parable.
While a coherent overarching theme is hard to discern, the film touches on some intriguing issues.  Jarmusch appears to be interested in the battle between the mind and body as Adam and Eve try to immerse themselves in a world of intellectual thought, literature and music but are constantly drawn to their base, physical, blood-sucking desires.  The film is also a poignant elegy to the decaying city of Detroit as Adam and Eve spend their nights cruising its crumbling cultural and industrial monuments.
Best of all, the film contains an amusing grab bag of in-jokes and references to the intellectual and artistic titans such as Schubert, Nikola Tesla, Albert Einstein and even Jack White whom Adam and Eve have met in their centuries of life.
In a role that mostly requires him to look like a morose, burnt-out 70's rock star, Hiddleston still manages to convey the wit and intelligence he has brought to previous characters.  The always enigmatic Tilda Swinton is suitably ethereal and mysterious as Eve although like Hiddlestone, her character doesn't develop over the film's course.  The ubiquitous Mia Wasikowska,  who is in so many film she must have the superhuman powers of a vampire, briefly brings some anarchic energy to the film but disappears from the story much too quickly.   Anton Yelchin (Mr Chekhov in the Star Trek re-boot) is amusing and likeable as obsequious music fan boy Ian.  Cinema legend John Hurt also appears as the vampire incarnation of playwright Christopher Marlowe who also acts as Eve's confidante.  His brief but creepily charismatic appearance on screen leaves us wishing he had a more substantial role in the film.
Some will find this quirky yet languid variation on the vampire film hypnotic and funny but many will be desperately wishing an old school Hammer style vampire will invade the screen and up the body count.
Nick's rating: ***
Genre: Horror/ drama.
Classification: M.
Director(s): Jim Jarmusch.
Release date: 17th April 2014
Running time:  123 mins.
Reviewer: NickGardener can be heard on "Built For Speed" every Friday night from 8-10pm right here on 88.3 Southern FM.  Nick can also be heard on "The Good, The Bad, The Ugly Film Show" podcast. http://subcultureentertainment.com/2014/02/the-good-the-bad-the-ugly-film-show 


Related Posts: