Film review: RED DOG: TRUE BLUE, from 'Built For Speed'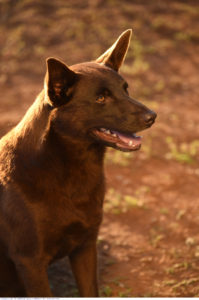 Red Dog was one of recent Australian cinema's greatest success stories, an unassuming and charming family film that ended up being a box office hit.  Red Dog proved (as we should have already known) that films about Australia and our national culture will find an audience.  With that film's success a sequel was inevitable.  While unlikely to become as iconic a film as its predecessor, Red Dog: True Blue is still a likeable heartfelt yarn.
The film begins shakily with an oddly meta framing device that sees stressed Perth businessman Mick, played by an unrecognisable Jason Isaacs (aka Lucius Malfoy from the Harry Potter films) taking his children to see the original Red Dog film.   Surprisingly, he reveals that, as a child, he owned the beloved critter on which the film was based.  True Blue then recounts 12-year-old Mick's (Levi Miller) experiences in the 1960's when his mother's failing mental health forced him to live with his Grandfather (Bryan Brown) on his outback Western Australian property.  There, young Mick encounters the irrepressible red Kelpie that changed his life.
Part coming-of-age story, part Lassie-style animal film, part outback adventure and also part Aussie cultural reflection, Red Dog: True Blue at times has trouble fitting together the disparate pieces of its narrative.  Once the film draws us into young Mick's story, though, it becomes an engrossing tale.
Levi Miller has the right balance of innocence and rebelliousness to make Mick a likeable but not squeaky-clean figure.  His experiences, particularly his love for his new found four-legged friend Blue and his crush on young female teacher Betty (Hannah Mangan Lawrence) have a heart-warming honesty.  With the focus on Mick and Blue, however, most of the other characters aren't given quite enough chance to develop and it's a little odd to see veterans such as Bryan Brown underused in this way.  There's also a bizarre cameo by John Jarratt as none other than Lang Hancock who for some reason winds up having a Deliverance-style banjo duel with Grandpa.
As they did in the first Red Dog film director Kriv Stenders and cinematographer Geoffrey Hall capture the expansiveness, beauty and threat of outback Australia without losing focus on the human and canine characters at its centre.
The film stumbles occasionally with its broad depiction of Aussie larrikins and its overly quirky portrayal of a Chinese cook but thankfully, these sorts of missteps don't damage too badly what is ultimately a touching and at times exciting family adventure.
Nick's rating: ***.
Genre: Family adventure.
Classification: PG.
Director(s): Kriv Stenders.
Release date: 26th December 2016.
Running time: 89 mins.
Reviewer: Nick Gardener can be heard on "Built For Speed" every Friday night from 8-10pm right here on 88.3 Southern FM.  Nick can also be heard on "The Good, The Bad, The Ugly Film Show" podcast. http://subcultureentertainment.com/2014/02/the-good-the-bad-the-ugly-film-show
Related Posts: