Film review: THE THEORY OF EVERYTHING, from 'Built For Speed'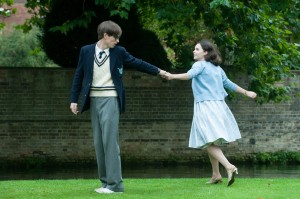 Renowned physicist Stephen Hawking is such a towering figure he has moved beyond the cloistered world of science and academia to become a pop-cultural icon.  He has even earned the occasional appearance on the Big Bang Theory where he regularly taunts Sheldon. 
The Theory of Everything dramatises Hawking's (Eddie Redmayne) life during what is arguably his most productive and tumultuous period from 1963 to 1988.  The film follows Hawking from his time as an introverted Cambridge student in the mid 1960's, through his struggle with motor neurone disease, to his marriage to wife Jane (Felicity Jones) and eventually to the release of his best-selling book A Brief History of Time in 1988 and his ascension to unlikely celebrity status.
This film does not provide a detailed insight into Hawking's scientific theories concerning black holes and the origins of the universe so those looking for elaborate academic dissertations may be a little disappointed.  Instead, the flm focuses on Hawking's physical deterioration and the impact this has on his relationship with Jane and their children. The early part of the film reveals the steady onset of motor neurone disease as Hawking's physical movement deteriorates.  His diagnosis is particularly devastating as he's told he only has two years to live. He initially reacts by slipping into a state of depression and social isolation but his wife doggedly helps him engage with the world and continue his work.  The impact of his illness could have been distressing to watch but as we know the phenomenal figure Hawking became, his resilience in the face of this illness is inspiring.
Like The King's Speech and Chariots of Fire this is a very British film characterised by a tasteful, dignified and restrained tone that despite being very un-Hollywood has found favour with Oscar voters.  Director James Marsh convincingly captures the look of the early 1960's without being glaringly retro.  He does, however, make some leaps through time that leave us wondering in which year the film is set.
Eddie Redmayne deserves all the accolades afforded him for his portrayal of Stephen Hawking. He not only captures the man's physical appearance and movement but also his cheeky wit and uplifting optimism.  Felicity Jones also delivers a strong performance as Jane convincingly mixing genuine affection for Stephen with emotional distress as she tries to cope with Stephen's physical needs and his sudden celebrity. The film is, however, based on Jane's book and there is a sense that some aspects of their life (such as extra-marital affairs) have been smoothed over.
To capture the life of a man whose intellect spans the universe is no easy task and while this is by no means a perfect depiction of Hawking it is still a moving, thoughtful and at times funny insight into one of recent history's most remarkable figures.
Nick's rating: ***1/2.
Genre: Biopic/ drama.
Classification: PG.
Director(s): James Marsh.
Release date: 29th Jan 2015.
Running time: 123 mins.
Reviewer: Nick Gardener can be heard on "Built For Speed" every Friday night from 8-10pm right here on 88.3 Southern FM.  Nick can also be heard on "The Good, The Bad, The Ugly Film Show" podcast. http://subcultureentertainment.com/2014/02/the-good-the-bad-the-ugly-film-show 
Related Posts: