Film review: 'TOMB RAIDER', by Nick Gardener from 'Built For Speed'
The Lara Croft: Tomb Raider video game was first brought to the cinema screen in the campy sexualised 2001 version starring Angelina Jolie. It was a ridiculous yet tolerable time-filler although hardly a film crying out for a remake.  Yet a remake there is.
Tomb Raider which is, in part, a Lara Croft origin story, tries to emulate the matinee action adventure, supernatural horror, archaeological intrigue and 'white person in the jungle' hijinks of Raiders of the Lost Ark. Unfortunately, this film has almost none of the charm or excitement of the Spielberg classic.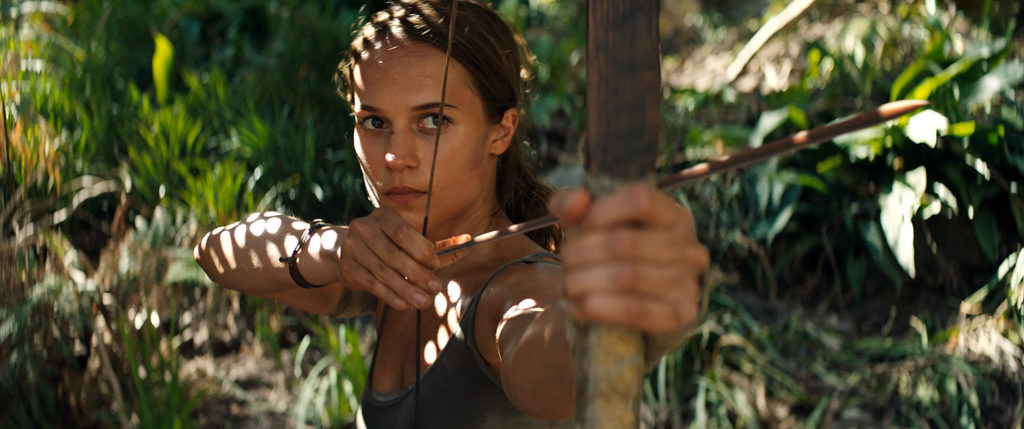 Here, Alicia Vikander takes the lead as Lara Croft, a young woman still mourning her archaeologist father (Dominic West) who disappeared while on an expedition to a mysterious Japanese island while researching the legend of the witch Himiko seven years earlier. When Lara acquires evidence of his possible location she sets off on an adventure to the treacherous island of Yamatai. There she and newly acquired sidekick Lu Ren (Daniel Wu) must battle the nefarious Mathias Vogel (Walton Goggins) who, much like the bad guys in Raiders, is attempting to uncover artefacts with supernatural powers he hopes to weaponise.
Too much of this film involves long, bland tracts of exposition as it attempts to establish Lara's backstory and depict Lara's search for Dad and her battle with Vogel and his sinsister employer the 'Trinity' organisation. Despite some loud, violent action sequences Tomb Raider never thrills. No amount of noise and movement can make up for its fundamental lack of energy.  Also, based on a video game, the film has about as much emotional depth and engagement as it's source material.
Fine actress that she is, Alicia Vikander is disappointing here. She handles the role's physicality well but she lacks charisma and has none of the cheekiness or sense of the absurd Angelina Jolie brought to what is essentially a silly character in the original or alternatively the hard-boiled toughness of Charlize Theron in films like Atomic Blonde. She's simply a non-descript character, admirably given some flaws (she doesn't trounce every opponent) but there's nothing memorable about her Lara. Elsewhere, a big name cast is wasted with Dominic West playing a clichéd crazy professor (with an outrageous Billy Ray Cyrus mullet), Kristen Scott Thomas underused as Lara's guardian and the legendary Derek Jacobi reduced to a bit part as a family lawyer. Goggins lends Vogel a touch of oily menace but he's hardly an indelible villain.
Director Roar Utaugh makes reasonable use of the island landscapes although the film's visual appeal is undermined by some obvious and clunky cgi.
This is the first in what the film makers seemingly hope will be a franchise but that may be in doubt as Tomb Raider has an aroma disturbingly similar to that of the recent Mummy film.
Nick's rating: **
Genre: Action/adventure/fantasy.
Classification: M.
Director(s): Roar Uthaug.
Release date: 15th Mar 2018.
Running time: 122 mins.
Reviewer: Nick Gardener can be heard on "Built For Speed" every Friday night from 8-10pm right here on 88.3 Southern FM.  Nick can also be heard on "The Good, The Bad, The Ugly Film Show" podcast. http://subcultureentertainment.com/2014/02/the-good-the-bad-the-ugly-film-show
Related Posts: