RETURN TO YOUTH – LIVE SUNDAY SESSION
RETURN TO YOUTH are this Sundays (February 24th) Live Sunday Sessions guest. An irrepressibly-catchy alternative-pop trio consisting of Marites (vocals/keys), Matt (guitar), and Alan (drums) giving life to their original, melodic creations using fresh, vibrant shapes and rhythms , that come from the heart. 
With a diversity of rhythm, catchy melodies, and story-like lyrics often based on observation; each song encapsulates themes of hope, anguish, bitterness, and joy.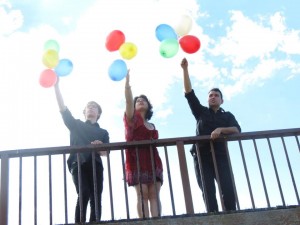 RETURN TO YOUTH began their musical journey in 2011 with their self-recorded debut EP, 'GLOW IN THE DARK', which was recorded entirely in drummer Alan's lounge room, and successfully launched at Revolver Upstairs in October 2011. The band spent their first few months together writing and churning out ideas, while sharing their love of imitating foreign accents. While the accents were soon left behind, the musical ideas jelled together to form the six tracks found on the 'GLOW IN THE DARK' EP.
Invigorated with new ideas for songs, and a more refined and focused sound, 2012 saw RETURN TO YOUTH write and record their 'SAIL AWAY' EP and playing festival sets at Moomba, Anglesea Music Festival, Corner Hotel Unsigned Festival, Fest La Frog, Relay for Life, plus many a gig around Melbourne town from Northcote Social Club to The Grace Darling, Revolver Upstairs, Pony, Blue Tile Lounge, Red Bennies, and many more. Great local talent with their own sound, tune in from 4pm this Sunday.
https://www.facebook.com/returntoyouth
Related Posts: