Sunday Live Sessions presents "CHARLOTTE" – March 9th 4pm
I have the pleasure of presenting SLS this week Sunday March 9th and our very special guest artist is Melbourne Songstress Charlotte.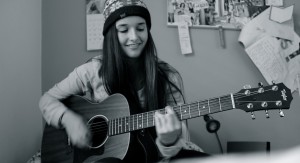 Charlotte's passion for music started at age 4 when the very talented Missy Higgins baby-sat her and her younger brother. It was just after Missy had won the Triple J Unearthed competition and the story goes that Missy sang them both to sleep. Missy and Charlotte both attended the same primary school in Armadale and Charlotte spent her early years at the early childcare facility owned by Missy's Mum.
Charlotte has been playing guitar and writing her own music since she was 10 years old. She has been heavily influenced by Missy Higgins of course, but also Lana Del Ray, Tegan and Sara and Sky Ferreira. Her style is mellow and low key, mostly just her and a guitar with some added layering using a looping machine.
Charlotte is about to start year Eleven at Mentone Grammar School where she plays an active part in the school's performing arts program. Her first original song "More" was recorded as part of a school project at the famous Sing Sing Recording Studios in Melbourne's inner city suburb of Richmond. Music producer, Dorian West (of X factor fame), walked Charlotte through the entire music making process from start to finish, providing a valuable insight into the music industry.
www.charlottemusic.com.au
www.facebook.com/pages/Charlotte-Music/204544349749170
Please join us from 4-5pm for Sunday Live Sessions with this weeks guest artist Charlotte.
You can listen to us the conventional way on the radio or live streaming on the internet or on your mobile device using the Tunein app.
www.southernfm.com.au
Related Posts: