SECA PANEL PODCAST #5 2021/2022
Round 5 bought another round of interesting results in what is proving to be a very tight season in SECA cricket. The panel (including new member Bhoondi Williams) worked their way through all the highlights and lowlights of the weekend on the SECA cricket show. You can hear the program in full here on this weeks podcast.
Elwood's Adam Howard works the ball away on the off-side from the bowling of Le Page Park speedster Nick Huttley in their closely contested game on Saturday.
Photo courtesy Aaron Carroll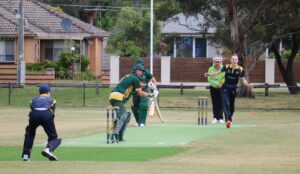 Related Posts:
Podcast (2): Download
Subscribe: RSS