SECA PANEL PODCAST 5 2023/2024
Round 4 Shield matches and round 3 matches in E, F & G grades were played and the SECA Panel wrapped up all the action on Sunday mo
rning and there were some great games played throughout all of the grades. This weekend is a full weekend with Shield games on both Saturday & Sunday on what is SECA Charity Round.
Hear this weeks show on podcast via the media player below:-
Pictured (courtesy Sonia Carroll Photography):-
Le Page Park's ageless wonder Hemantha Alles had a day out against East Sandringham smashing a glorious century with shots like this which East Sandy keeper Matthew Blunden can only admire.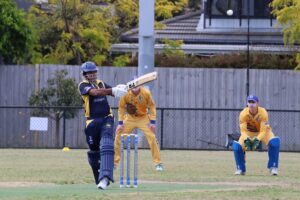 Related Posts:
Podcast (3): Download
Subscribe: RSS