SECA PANEL SEMI FINAL PODCAST #19
The business end of the season arrived and the SECA panel bought their "A game" as they wrapped Saturdays results and prognosticated about what was going to happen on Sunday. They generally got some right and a few wrong but panellist Michael Moss was on fire. Get on his bandwagon this week and hope he tips your team to win!!!
Hear the whole show right here.

Podcast: Download
Subscribe: RSS
Tons of Fun East Sandy duo Guy Martyn and Brad Hodge after their 203 run stand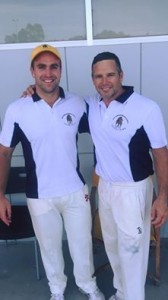 Related Posts: