Joan of Arc – story podcast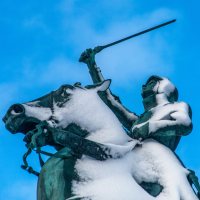 Listen again to the story of Joan of Arc. Broadcast on Songs of Hope on Sunday 29 November 2015 on Southern FM 88.3. Play time is 4 minutes.
The hymns podcast this week includes:
O for a thousand tongues – St Michaels Singers
When morning guilds the skies – Joslin Grove Choral Society
Great is Thy faithfulness – Jordan Smith
Also listen to Songs of Hope part 2 for 29/11/2015. It includes a  feature on Evie Tornquist and the story of Joan of Arc.
The songs podcast for last Sunday 29/11/2015 is of Warrnambool duo Strange Children singing "This is the day" with their celtic sound.
Podcast (2): Download
Subscribe: RSS
Podcast (3): Download
Subscribe: RSS
Podcast (4): Download
Subscribe: RSS
Podcast (5): Download
Subscribe: RSS
Podcast: Download
Subscribe: RSS
Songs of Hope website: http://songsofhope883.com
Related Posts: