Songs of Hope podcast 23/8/2015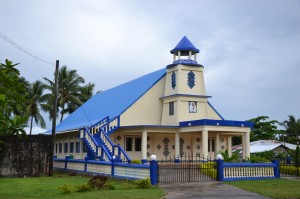 Listen again to 0ne hour of Songs of Hope, broadcast on 23 August 2015 on Southern FM 88.3. This is one hour of Christian praise and worship music.
The church at the right is in Samoa
Words for Life is a talk by Rev Mark Durie of Oaktree Anglican church here in Melbourne. The talk title is "Jesus calls the marginalised". The Bible reference is Matthew 9:9-13. Talk time is 20 minutes.
Analucia's Bible promises podcast has the love teaching from the Bible, 1 Corinthians 13:1-8
Our country gospel podcast for 23 August includes the following songs:
Enjoy your day – Dysart Family
Stand strong – Eternity's Crossing
Our hymns and choirs podcast of 10 minutes, includes the following pieces:
God is our strength and refuge – All Souls choir
Rejoice in the Lord – Octet Cantible.
Holy holy holy – Blessed Assurance album (India)
Our prayer podcast is Psalm 46, God is our mighty fortress.
Podcast (2): Download
Subscribe: RSS
Podcast (3): Download
Subscribe: RSS
Podcast (4): Download
Subscribe: RSS
Podcast (5): Download
Subscribe: RSS
Podcast (6): Download
Subscribe: RSS
Podcast (7): Download
Subscribe: RSS
Podcast: Download
Subscribe: RSS
Songs of Hope website: http://songsofhope883.com
Related Posts: