Songs of Hope podcast Sunday 9/8/2015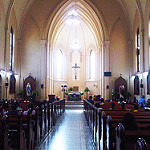 Listen again to Songs of Hope one hour podcast for Sunday 9 August 2015. It contains one hour of Christian praise and worship music plus the story of Margaret Court at the 3/4 hour mark for 5 minutes. The feature song at the 1/2 hour mark is a Christian song from an Indonesian Christian church.
The church at the right is a Catholic Christian church in Malang, Indonesia.
Songs of Hope songs podcast for 9 Aug 2015 has a gospel flavour and includes the following songs:
God sits on high – Carolina Boys
I saw the light – Bill Phillips
Red red – The idea of north
O what a time – The Couriers
The Songs of Hope hymns podcast for 9 Aug 2015 includes the following choir pieces:
Be Thou my vision  – Paisley Abbey choir
Out of my bondage – Dallas Christian adult concert choir
What a friend we have in Jesus – An afternoon of our favourite hymns album
Words for Life podcast is Rev Kevin Pedersen of Ormond Anglican church here in the southern suburbs of Melbourne. His talk title is "Belief and unbelief". His Bible reference is Mark 6:1-13. Talk time is 19 minutes.
The Bible promises podcast is number 27, "Our strength"
Podcast (2): Download
Subscribe: RSS
Podcast (3): Download
Subscribe: RSS
Podcast (4): Download
Subscribe: RSS
Podcast (5): Download
Subscribe: RSS
Podcast (6): Download
Subscribe: RSS
Podcast: Download
Subscribe: RSS
Songs of Hope website: http://songsofhope883.com
Related Posts: