The story of Mother Teresa this Sunday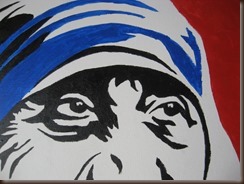 Listen to Songs of Hope this Sunday at 8:35am for the story of Mother Teresa in 5 minutes.
Other features of the program include
a 3rd century prayer,
a spotlight on up and coming Australian Christian music singer/songwriter Lisa Couper at 8:25, and
a talk by Reverend Kevin Pedersen from Ormond Anglican Church at 7:30am.
The rest of the time its great Christian praise and worship music to inspire your spirituality.
Here is the program for this Sunday 4 October 2015:
7-8am Bruce host
7:10am Our Daily Bread (1m)
7:30am Kevin Pedersen (22m)
8-9am Rod host
8:10am Prayer – 3rd century hymn of praise
8:20am Spotlight – Lisa Couper
8:25am Bible promises
8:35am Story – Mother Teresa (5m)
Related Posts: