Mother Teresa helped thousands – podcast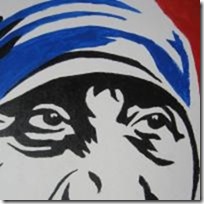 Listen again to the story of Mother Teresa, the Albanian Catholic Christian who has helped thousands around the world in a lifetime of service. Her organisation now numbers thousands of staff.
This was broadcast on Songs of Hope in the "Christians who made a difference" segment on Sunday 4 October 2015 at 8:40am on Southern FM 88.3
Our Songs of Hope prayer podcast is a 3rd century hymn of praise.
Our spotlight for 4 October 2015 was on new Christian singer and songwriter Lisa Couper. She sings her song "Come away"
Our Songs of Hope hymns podcast for 4 October 2015 is hosted by Bruce and includes the following hymns:
Your love pours over me – Salvation army citadel choir Coventry
There is a name I love to hear- Salvation army band at Sheffield
Abide with me – Salvation army band
Podcast (2): Download
Subscribe: RSS
Podcast (3): Download
Subscribe: RSS
Podcast (4): Download
Subscribe: RSS
Podcast (5): Download
Subscribe: RSS
Podcast: Download
Subscribe: RSS
Click the play button for the audio. Right click download to download
Songs of Hope website: http://songsofhope883.com
Related Posts: