TODAY – LIVE SUNDAY SESSIONS FEATURING SOULY US
As the year winds down and we hit December there remains a couple of wonderful LIVE SUNDAY SESSIONS to come and today at 4pm will be an absolute treat.
Coastal duo Souly Us will be setting the airwaves alight with their music which has been inspired by the world around them. Their original soulful sound is captivating audiences across Australia and beyond and today they will showcase many tracks from their superb debut album appropriately titled "Alive" which sums up the feeling they give you immediately upon hearing their sound.
Join us today on Southern FM from 4-5pm for a full live hour from this dynamic duo, you will love them too.
www.soulyusmusic.com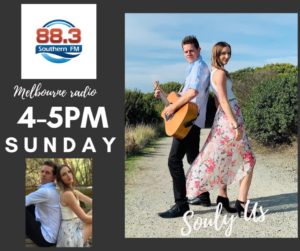 Related Posts: