BEST MEDICINE and WRITE NOW – New year
Happy New Year. I went for my daily walk early this morning, as ever; but came across something strange. As I reached the idyllic environs of Lake Waterways, I noticed a large tree trunk on the island was on fire. How do you put out a fire on a small, uninhabited island? A fine conundrum.
In one of their more unusual actions, the CFA Springvale and SES Chelsea were co-operating to access and extinguish the fire.
The SES inflatable conveyed the CFA fire fighter and hose from shore to the island.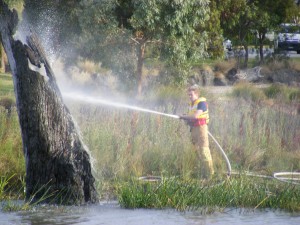 Later the inflatable returned to shore to take across another CFA member plus chainsaw, to fell the now possibly dangerous tree trunk. Paddling (the craft) was required as they had experienced 'mechanical failure'. (CFA was reassured by SES that the water was 'shallow but cold')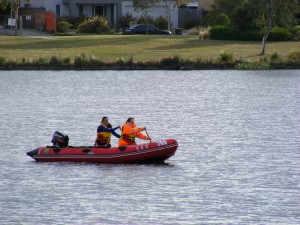 A good deal more hosing down and checking with thermal detector went on.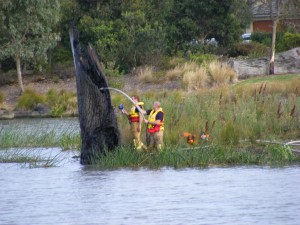 Finally after careful inspection and testing, the trunk was left and all returned to shore – most inventively: CFA person at the front hauling the craft to shore using the fire hose, while the other CFA member assisted with the hose at the rear of the vessel.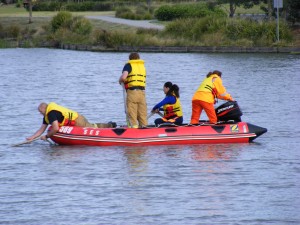 All arrived safe and dry, sense of humour intact.
Unusual, but potentially hazardous. And the fire (probably started by fireworks last night) did need to be extinguished. As ever, our highly trained, very capable and dedicated CFA and SES volunteers did a great job. We can never acknowledge and thank them enough for their contributions to community safety and welfare.
Gaytana
Related Posts: