Film review: JOURNEY TO SPACE – 3D, from 'Built For Speed'
The new IMAX documentary Journey to Space 3D is a visually stunning, aurally overwhelming experience that explores the history of space travel and reveals the remarkable plans to send a manned mission to Mars.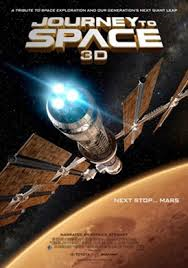 With wonderfully soothing but authoritative narration from Patrick Stewart, actual outer-space footage from the International Space Station, (extremely loud) scenes of rocket launches, photos from the Hubble Telescope and astonishing special effects, the film recounts various aspects of the history of space exploration. In particular, the film focuses on the space shuttle flights that ended in both triumph and tragedy.  One of the more striking images in this film is the final space shuttle Atlantis being wheeled through streets on its way to become an exhibit at the Kennedy Space Centre in Florida.
It's a fascinating look at humans' otherworldly adventures although some viewers may wish for more archival footage of the classic 60's era of space travel.
One of the most interesting aspects of the film is the way it discusses the challenges and complexities of sending people on such a vast journey as a trip to Mars (as has been planned with the Orion spacecraft) and the technological solutions such as detachable space suits and asteroid deflectors that have been proposed.
With its enormous screen and all-encompassing sound, IMAX is the ideal format for a documentary about the vastness of space.  The use of 3D help makes it an even more immersive experience
For anyone fascinated by space travel, Journey to Space: 3D is a must see.
Nick's rating:***1/2.
Genre: Documentary.
Classification: E.
Director(s): Mark Krenzien.
Release date: 12th March 2015.
Running time: 45 mins.
Reviewer: Nick Gardener can be heard on "Built For Speed" every Friday night from 8-10pm right here on 88.3 Southern FM.  Nick can also be heard on "The Good, The Bad, The Ugly Film Show" podcast. http://subcultureentertainment.com/2014/02/the-good-the-bad-the-ugly-film-show 


Related Posts: