Film review: MALEFICENT, from Built For Speed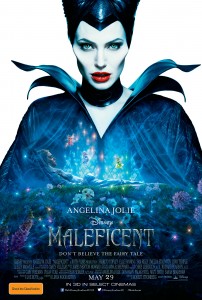 So many mediocre cgi-drenched fairy tales, mythical adventures and superhero films have filled our cinema screens lately that audiences would be forgiven for feeling a bit jaded and approaching the Snow White re-imagining,

Maleficent

with low expectations.  This film is, however, one of the cinematic surprises of the year.  Exciting, funny, visually captivating and even emotionally involving

Maleficent

more than honours its classic Disney predecessor.
The film doesn't begin brilliantly, though, as we're introduced to the perky tween Maleficent (Isobelle Molloy), a fairy princess who flits blithely around the idyllic forest kingdom known as the Moors.  Sitting next to this Garden of Eden is the hard-headed capitalist kingdom of humans.  When one of those humans, a callow young lad named Stefan (Michael Higgins) stumbles into Maleficent's world and falls in love with her, the film seems to be heading for a syrupy teen romance.  Strangely, though, Stefan departs for his homeland's royal court and later betrays Maleficent in the service of the war-mongering King. In a fit of bitter vengeance the adult Maleficent (Angelina Jolie) vows to make Stefan's life miserable and curse his only child Aurora to fall into a deathlike sleep on her 16th birthday.  As fans of Snow White know, the only thing that can wake her is true love's kiss. Things become complicated for Maleficent, however, when Aurora begins to inspire flickers of compassion in her shrivelled heart.
Angelina Jolie is perfectly suited to play this ultimate femme fatale.  With her alabaster skin, ruby lips and classic facial features sculpted to harsh edges by CGI, she's a mixture of sexuality and malevolence.  She also manages to be heroic, sad and sometimes funny.  Jolie is the stand-out performer in this film although Sharlto Copley does a fine turn as the troubled and murderously ambitious Stefan.  Elle Fanning is a little flaky and innocent as the teenage Aurora but still has a luminous charm. 
The film cleverly balances human drama, magical fantasy, violent action and comedy relief although the three bumbling fairies who guard Aurora are a little too silly and squeaky for adult audiences. Interestingly, two of the actors playing these quirky fairies, Imelda Staunton and Lesley Manville, previously played two of the most heartbreaking characters in recent cinema in the Mike Leigh films Vera Drake and Another Year.
While there is some cartoonish CGI in Maleficent, for the most part the special effects are extremely impressive with terrific set pieces such as the massed battles between Maleficent's forest creatures and the King's soldiers.  The film's visual impact is not surprising given Director Robert Stromberg pedigree as an effects expert.
Maleficent isn't just an effects extravaganza, though, as the film also contains an interesting feminist subtext with the powerful woman battling a male dominated kingdom; a subtext enhanced by a major plot twist that movingly alters the original fairy-tale.
While a little cutesy at times, Maleficent is often thrilling and unlike so many effects-laden films, it actually makes us feel for the characters.
Nick's rating: ****
Genre: Fantasy/ adventure.
Classification: M.
Director(s): Robert Stromberg.
Release date: 5th June 2014
Running time: 97 mins.
Reviewer: Nick Gardener can be heard on "Built For Speed" every Friday night from 8-10pm right here on 88.3 Southern FM.  Nick can also be heard on "The Good, The Bad, The Ugly Film Show" podcast. http://subcultureentertainment.com/2014/02/the-good-the-bad-the-ugly-film-show 


Related Posts: