Film review – UNBROKEN, from 'Built For Speed'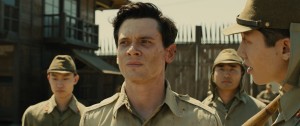 Unbroken is Angelina Jolie's second film as director following 2011's In the Land of Blood and Honey.  A World War Two drama, Unbroken explores important topics in an earnest manner and with impressive film-making technique but doesn't amount to an entirely satisfying film. 
Unbroken tells the gruelling story of American Private Louis Zamperini (Jack O'Connell) a delinquent kid turned star athlete and WW2 bomber pilot who was shot down over the Pacific and after more than a month on a raft was captured and repeatedly tortured by the Japanese.  Despite horrendous treatment he refused to succumb to despair and bitterness.
This was clearly meant to be an inspirational story of a scrappy kid beating the odds of a troubled upbringing, near starvation and prison camp inhumanity.  Rather than a rousing story of courage, though, this film turns into torture porn with overtones of martyrdom as Zamperini suffers innumerable beatings and sadistic treatment from prison camp commander Watanabe (Takamasa Ishihara).  The film almost recalls The Passion of the Christ in its depiction of Zamperini's endless suffering; at one point it even has him holding up a heavy wooden plank in a crucifixion pose.  Prisoners of war obviously suffered appallingly but this film's depiction of that suffering becomes strangely unrealistic.  From a purely cinematic perspective, Bridge on the River Kwai and The Railway Man provided more compelling visions of what prisoners endured at the hands of the Japanese in the Second World War.
Jack O'Connell does an adequate job as the nuggetty Zamperini but doesn't give the character enough dimension or nuance to make him particularly memorable.  Louis may have been more interesting if we'd learned more about his athletic career and seen him as an adult outside the relentless brutality of the prison camp.  O'Connell should, however, be commended for his endurance in what must have been a physically demanding shoot. Much more memorable is Takamasa Ishihara as Louis' grinning, neurotic, embittered nemesis Watanabe. His desperation to break Louis reveals inner torment which makes his actions comprehensible without ever being acceptable.
Shot mostly in Australia the film contains some visually stunning sequences which reveal Angelina Jolie's inventiveness as a director; the way in which she depicts the aerial battle sequences early in the film are unnervingly realistic.  Pacing is a problem in this film, though, with some sections, particularly the Life of Pi-like raft sequence, dragging on much too long. 
From a visual standpoint this is an exciting directorial effort for Jolie but let's hope that with her next film she makes her subject more fascinating.
Nick's rating: ***.
Genre: War/ drama.
Classification: M.
Director(s): Angelina Jolie.
Release date: 15th Jan 2015.
Running time:  137 mins.
Reviewer: Nick Gardener can be heard on "Built For Speed" every Friday night from 8-10pm right here on 88.3 Southern FM.  Nick can also be heard on "The Good, The Bad, The Ugly Film Show" podcast. http://subcultureentertainment.com/2014/02/the-good-the-bad-the-ugly-film-show 
Related Posts: