Film review: SOLO: A STAR WARS STORY, by Nick Gardener from 'Built For Speed'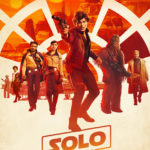 The multitude of recent Star Wars films are probably the premier examples of Gen X nostalgia mining as movie makers attempt to wrench every dollar from those greying, cashed-up children of the 1970's. There's probably no greater Gen X hero than Harrison Ford's Han Solo, he's almost a religious figure to many sci-fi fans.  Depicting Solo's younger days with a different actor would seem a very precarious exercise, something Star Wars obsessives might see as sacrilege.  With Solo: A Star Wars story director by Ron Howard takes on that dubious challenge and while delivering a fairly predictable tale, he generally does the character justice.
The film has no pretensions other than indulging an appetite for more of the Han Solo character and building a back story that heads toward the classic trilogy. It occasionally feels like a Star Wars reference checklist and a self-conscious attempt to pander to fans' desire for those all-important links to the original films. Fortunately, Howard has managed to construct a reasonably exciting action adventure story around these moments.
Solo is, or at least attempts to be, a swashbuckling adventure mixing kinetic action, fan service and goofball humour. Here, Han Solo (Alden Ehrenreich) is a 20-something 'scrumrat', the Star Wars equivalent of a street punk, whose scamming his way through life on the planet Corellia.  When he falls foul of local authorities he's forced to flee and after a brief stint in the army hooks up with a smuggling crew led by the tough, resourceful and very sneaky Tobias Beckett (Woody Harrelson).  After a heist goes awry they're compelled by crime boss Dryden Vos (Paul Bettany) to pull off a major theft which just happens to involve an iconic piece of Star Wars lore.
Ehrenreich had a near impossible task trying to step into Harrison Ford's shoes and while he doesn't have Ford's effortless charm and swagger or look much like Ford – he's more of a young Ray Liotta meets Leo da Caprio meets (oddly enough) Jack Black – we quickly warm to his wide-eyed enthusiastic portrayal of the sci fi icon.  Game of Thrones' Emilia Clarke does a decent if unremarkable job as surrogate Rei/ Princess Leia, love interest and fellow smuggler Qi'ra. Donald Glover (who has a long resumé including Playing Tiger Woods in a telemovie) slides comfortably into the silk cape of a young Lando Calrissian. Harrelson is, thankfully, pretty much the same character he always plays, a lovable reprobate with a sly grin who doesn't take anything too seriously.  Also, what would Han Solo be without bestie Chewbacca (now played by Finnish actor Joonas Suotamo) who, thankfully, has plenty of screen time in this film.
Ron Howard apparently took over the project after much of it had been completed, purportedly to give what was a very jokey film more grit. Despite this, the film contains plenty of gags including a few Benny Hill-worthy sex references. Much of the humour also involves byplay between Han and Chewbacca including a scene in which they shower together.
Aesthetically, this film is a mixed bag. Amid it's many action set-pieces are some stunning effects but it has neither the grittiness of The Force Awakens and Rogue One (largely due to overuse of CGI backgrounds) nor the glossy, epic quality that distinguished the classic Star Wars trilogy. It's actually a little bland-looking and quite murky during interior shots.
This is a pacier film than the three recent Star Wars prequel/ sequels but as with those movies, there's a sense of a film constructed by committee; a safe effort that won't antagonise fans but won't blow their minds either.
Nick's rating: ***
Genre: Sci-Fi/ Adventure/ Fantasy.
Classification: M.
Director(s): Ron Howard.
Release date: 24th May 2018.
Running time: 135 mins.
Reviewer: Nick Gardener can be heard on "Built For Speed" every Friday night from 8-10pm right here on 88.3 Southern FM.  Nick can also be heard on "The Good, The Bad, The Ugly Film Show" podcast. http://subcultureentertainment.com/2014/02/the-good-the-bad-the-ugly-film-show
Related Posts: