Film review: THE HATEFUL EIGHT, from 'Built For Speed'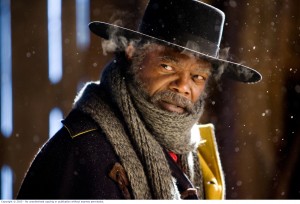 Since the superb Jackie Brown, Quentin Tarantino's films haven't been entirely convincing. Kill Bill, Inglorious Basterds and Django Unchained all had inventive, exciting and funny moments but the storylines were an unsatisfying jumble of ideas tainted by questionable morality. Tarantino's latest film, The Hateful Eight, is an improvement but still suffers some of the same problems; there's a number of fine set pieces and memorable performances but this long, awkward amalgam of revisionist western, 70's blaxploitation film, whodunit and blood-soaked horror movie doesn't always gel.
Set a few years after the American Civil War, the film sees hirsute, grizzled bounty hunter John Ruth (Kurt Russell) transporting his latest captive, accused murderess Daisy Domergue (Jennifer Jason Leigh) to the Wyoming town of Red Rock for trial and – he hopes – hanging. In the midst of a ferocious blizzard they're unexpectedly joined by bounty hunter and former Northern soldier Major Marquis Warren (Samuel L. Jackson) and Red Rock's new sheriff Chris Mannix (Walton Goggins). When the party takes refuge in a remote inn, they encounter an unusual collection of characters: taciturn cow-poke Joe Gage (Michael Madsen), chirpy English gent Oswaldo Mobray (Tim Roth), ageing former confederate general Sandy Smithers (Bruce Dern) and Mexican inn-keeper Bob (Demian Birchir). As the disparate souls shelter from the blizzard, it becomes clear that some of these people are not who they claim to be and may even have murderous intentions.
Typically Tarantino references a host of other films. In addition to its western iconography the films is peppered with '70's exploitation cinema references, nods to iconic horror films like Carrie and The Thing and being set largely in one room, it recalls the confined space murder mystery of Agatha Christie. Tarantino also references himself with Reservoir Dogs-style stand-offs and characters delivering long-winded (pop) cultural dissertations and over-explaining the logistics of the situation.
Interestingly, though, in this film more than in his previous movies, Tarantino appears to be making political points. He touches on issues such as racism, the brutal legacy of the old west and the social and cultural fault lines riven by the Civil War. He even has an Englishman proposing that the inn be divided down the middle to separate the two warring parties in what seems to be a reference to 20th century Britain's Middle East models. These political insights aren't developed to any great extent, though and are inevitably submerged in gory violence.   Also, this film also has an unsettling attitude toward women with the main female character repeatedly assaulted in what are often presented as comical sequences.
Despite some concerns we might have with his films, the rhythms of Tarantino-speak are still wonderful to listen to, particularly when delivered in triumphant, evangelical, yet slyly sarcastic tones by Samuel L. Jackson. Delivering vengeance and tough guy sermons upon his nemeses, Jackson's ebullient, quick-witted but brutally violent Major Marquis Warren could well be a Civil war-era incarnation of Jules from Pulp Fiction.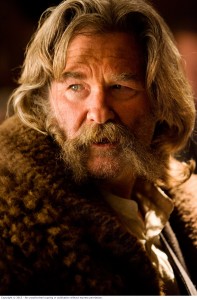 While Jackson is the standout there's some other fine casting choices here. Kurt Russell is physically intimidating yet strangely endearing as the John Wayne sound-alike John Ruth. Bruce Dern is both wise and malevolent as the battle-weary confederate general Smithers while Tim Roth is amusingly over-the-top as Oswaldo – a role that seems like it may have been originally intended for Christophe Waltz. Jennifer Jason Leigh is almost unrecognisable as the bedraggled Domergue and while she has minimal dialogue she still exerts a potent presence. Channing Tatum also appears in a brief but surprisingly effective role as a mysterious and sinister figure. The only disappointment among the characters is that Michael Madsen's Joe Gage is given little to do and never has the chance to establish himself in the sort of iconic fashion he did in films like Reservoir Dogs.
Tarantino's films have always looked terrific and here, in collaboration with legendary cinematographer Robert Richardson, he creates imposing visions of snowbound Wyoming landscapes and the harshness of life amid the primitive technology of the Wild West. Fortunately, Tarantino's old-school cinematic vision includes a love of 70mm film which he uses to stunning effect here. The film will actually be screened in different formats with a few specially equipped cinemas projecting in 70mm.  The film also features an overture and an intermission which is very welcome given the movie is over three hours.
Tarantino's films have always sounded great as well and here he has retained the services on none other than Ennio Morricone for a typically rousing and expansive spaghetti western score. Tarantino has also included some fine contemporary songs from the likes of The White Stripes which, surprisingly, feel right at home in the rugged frontier setting.
Within the oppressive confines of the snowbound inn Tarantino fashions some typically tense and threatening confrontations between his murderous paranoid characters but as in many of his recent films, his direction can be undisciplined as he allows scenes to go on too long and to become repetitive.
The Hateful Eight contains some terrific moments and any film that allows Samuel L Jackson to cut lose is a must see but it's far from the paradigm shifting genius of Pulp Fiction and has none of the touching humanist qualities of Jackie Brown. It's a mostly entertaining tribute to the western but it's a classic in neither the western genre nor in Tarantino's filmography.
Nick's rating: ***1/2.
Genre: Drama/ western.
Classification: R18+.
Director(s): Quentin Tarantino.
Release date: 21st January 2016.
Running time: 187 mins.
Reviewer: Nick Gardener can be heard on "Built For Speed" every Friday night from 8-10pm right here on 88.3 Southern FM.  Nick can also be heard on "The Good, The Bad, The Ugly Film Show" podcast. http://subcultureentertainment.com/2014/02/the-good-the-bad-the-ugly-film-show
Related Posts: