Film review: TRACKS, from Built For Speed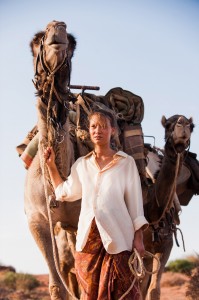 Tracks, starring Mia Wasikowska, dramatises Robyn Davidson's best-selling book which chronicled her epic 1,700 kilometre journey from Alice Springs to Uluru and the Indian Ocean in 1977. Davidson trekked on foot with four camels carrying supplies and her dog Diggity as company.  Reluctantly, she allowed awkward American National Geographic photographer Rick Smolan (Adam Driver) to meet up with her every few weeks to document parts of her journey.
The film taps into that latent desire so many of us have to cast off society's shackle and be alone in an unspoilt environment.  The film recalls Sean Penn's Into the Wild, as it recounts the experiences of a troubled loner disenchanted with society who seeks solace in the wilderness.  Also, much like Jessica Watson sailing around the world, the story grabs our attention because of the central figure's youth and gender. A young woman cast into the harsh elements confronting the unknown is, like it or not, much more novel than an older man completing such an adventure.
The film is meant to be as much a psychological journey as a physical one with Robyn constantly recalling the traumatic childhood incident that led to her desire for solitude.  Unfortunately, Tracks fails to achieve the emotional resonance the story desperately needed as Robyn simply seems mildly troubled rather than a tortured soul.  Also, while her journey is certainly a rugged and physically taxing one, there's rarely any sense of her being in danger from the elements, except maybe from skin cancer due to an unusual lack of sun protection.  Also, with Rick frequently providing supplies and a connection to civilization, the film doesn't quite capture that sense of a person alone in the vast emptiness of nature.
Tracks, is, however, a stunning film to look at.  While it never achieves the poetic beauty of Walkabout, it still features ravishing cinematography from Mandy Walker which captures the majesty as well as the harshness of the desert.
Given that the film focuses on Robyn's journey, its success or failure hinges on Mia Wasikowska's lead performance. Wasikowska has been prolific and very impressive in her recent roles in films such as Stoker but she's underwhelming here.  She sometimes seems more like a stubborn private school girl on an ill-advised lark rather than an adventurer or a genuinely distressed person looking for spiritual release.  Adam Driver who appears in hit TV series Girls, seems to have taken a few cues from David Schwimmer's Friends character Ross in his portrayal of the likeable nerdy but determined Rick Smolan.  Roly Mintuma is also wonderful as Aboriginal elder Eddie who guides Robyn through sacred land.  Despite his presence, however, the film only alludes to but doesn't explore in any detail, the plight of aboriginal people in that part of Australia.  Exactly what Tim Rogers is doing in this film is a mystery, though, as he makes a very brief but jarring cameo as a scruffy outback man named Glendle. Even more jarring is local film legend John Flaus playing an Afghan camel trainer. 
Ultimately, Tracks is a technically impressive piece of film making but not the powerful psychological journey it should have been.
Nick's rating: ***
Genre: Drama.
Classification: M.
Director(s): John Curran.
Release date: 6th Mar 2014
Running time: 112 mins.
Reviewer: Nick Gardener can be heard on "Built For Speed" every Friday night from 8-10pm right here on 88.3 Southern FM.  Nick can also be heard on "The Good, The Bad, The Ugly Film Show" podcast. http://subcultureentertainment.com/2014/02/the-good-the-bad-the-ugly-film-show 


Related Posts: